Conversations with Tim: An expert's take on supporting newcomer students
Conversations with Tim: An expert's take on supporting newcomer students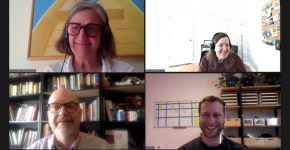 April 19, 2023
This edition of Conversations with Tim features a discussion between Tim Boals, WIDA founder and director, and Sam Finn, director of newcomer policy and practice at Californians Together. Throughout his career, Sam has worked as an elementary teacher, academic researcher and strategic consultant to state agencies. He contributes to the field of newcomer education through research, resource creation, professional development and national organizing.
Tim and Sam joined Merideth Trahan, WIDA chief of staff, to discuss what Sam's research and experience can tell us about how to support newcomer students and their families.
Listening option: Listen to the audio here or continue reading this abridged version of their conversation.
As you read and/or listen to this edition of Conversations with Tim, look for these top takeaways:
It's important to invest in family and community engagement and to ensure that, at the least, students' basic needs are met and that they are connected to supporting services.
Make school a welcoming place by celebrating all cultures and share messages that value the immigrant experience. And if you can, learn some of a student's home language.
Beyond the social-emotional, remember the phrase "care is not sufficient." Find instructional materials that focus on your newcomer's assets and develop lessons with intentionality — something that is specific to their needs.
Districts that serve many newcomers should have a plan that is different from the general English learner plan — which can be too broad for newcomers.
If a district or school can invest in a staff position that builds relationships with community-based organizations (e.g., a county health department or other groups that are ready and willing to help kids and their families), it's one of the best investments they can make.
Tim: Welcome, Sam! Tell us how you got into the field of multilingual learner education.
Sam: I started as an elementary school teacher in the Washington, D.C., charter school world. Then, I came back home to the Bay Area and taught at the Berkeley Public Schools for a few years. At Berkeley, I had two English learner students over three years. Eventually, I decided I wanted to work in Oakland. Over the course of my first year, I had five students come to the U.S. These newcomer students did not speak English, but a variety of different languages. Even though I spoke some Spanish, it wasn't that helpful for my kids that spoke Farsi, Pashto, Dari, Vietnamese, Arabic and Chinese. Prior to coming to Oakland, I thought I was a pretty good teacher… You're in your seventh year, you've got your master's in education. You're like, "I got this figured out." No, not at all.
I learned that there were about 1 million students in their first three years in schools nationwide and about 150,000 of them were in California. And there wasn't really a well-developed body of knowledge, practice of policy, data or instructional resources and strategies. So, I came at this from the perspective of a teacher who learned they couldn't teach their kids effectively, which is how I got into this work. Since then, I left the classroom, went to policy school for a graduate degree, studied newcomer education and supported the state of California's newcomer work.
Tim: It sounds like a fascinating journey, Sam, which all started when you looked at the students in front of you and said, "I don't know enough about how to serve them, and I want to know more." To think that you've gone back to graduate school and really dug into this topic in a significant way is commendable. We need to know more about how to serve them. Tell us about newcomer centers and what you've learned from them.
Sam: Newcomer centers as a term means different things to different people. Often they are thinking of a place in a district that helps coordinate enrollment, data gathering, case management, placement, etc. It is very important that a district that serves many newcomers has a distinct plan for them that is different from the general English learner plan. The English learner/multilingual classification is too broad for such a heterogeneous group.
A newcomer center in a district will want to have a centralized enrollment process that ensures students are placed with the proper support, scaffolds and guidance when they enter U.S. schools for the first time. Depending on the district, the context, the needs of the students, newcomers may benefit from being in a specialized school. You might have in-school academies, you might have pull-out or push-in. Some places do Saturday schools, summer schools and extended learning.
Successful newcomer centers are mindful about how they identify their students. If they're just classified as English learners, perhaps the model English learner in our country is Spanish-speaking and was born in this country. Colloquially, they're not an English learner per se. They can speak English, they can access instruction, but they need investment and development in their advanced academic language skills. The newcomers' situation is different. They often don't speak any English and if you put them in just any classroom the available scaffolds may not be sufficient. For example, I've had people tell me, "You didn't have the strategies when you were a third-grade teacher and had newcomers in your class." And I think: If you're teaching two-step word problems and all four operations in English and math and your kids have never gone to school before and don't speak English, there's no amount of differentiation in the world. You're teaching different things at that point.
The data is important at the district level to understand who your newcomers are and where they can be. In Oakland, we classify students as N-0, N-1, N-2, etc., to indicate what year they're in. Beyond the in-school pedagogy and program design, administration and data, wraparound support services are important for newcomers who — at least in California, where I've done my disaggregated data research — are primarily free and reduced-price meal eligible. They're more likely to live under the poverty line, and because they're coming to a community without the knowledge of their culture and with language barriers, they're going to need wraparound support along with their families. It's important to invest in family and community engagement and to make sure their basic needs are met and that they are connected to supporting services. But you need to connect them! It's all about taking a holistic approach to students.
Tim: During the height of the pandemic, what additional challenges did you find with respect to newcomer services and how we serve newcomers in general?
Sam: The pandemic was hard on about every student group. While technology was leveraged to fill in the education gaps, newcomers probably had the least access to it — both in terms of home internet access and their own familiarity and ease with the sort of computer programs they were expected to use. Generally, they rely more on classroom support and guidance and peer support. So, we saw some newcomers drop out at a disproportionately high rate during the pandemic. It was very challenging for our newcomer population, in Oakland, statewide and I'm sure nationwide — although I haven't done research on that yet.
Tim: We'll be waiting for your next article, Sam, to examine that topic. In the meantime, tell us how educators can best serve newcomer students given what you've learned over the last few years.
Sam: I think you can invest in several ways. A lot of people understand and gravitate to the social emotional elements, and that's important. Newcomers are dislocated from their country and community and have to come up with a new language — that's inherently hard. On top of this, some have undergone much more serious trauma. Start by making school a welcoming place; celebrate all cultures and immigrants. Share messages around the immigrant experience. Do read alouds, lessons imagining what it may have been like, and how your family went through the immigrant experience at some point. Californians Together has a great series of lesson plans.
Beyond the social emotional, we have to remember the phrase "care is not sufficient." You need to figure out what are the best instructional materials for them. Do I need to advocate for a different class, for push-in or pull-out? Do they need a separate program? Because the most important thing to realize for our newcomer kids is that you can't just modify the mainstream instruction in many of cases. You need to develop with intentionality something that is specific for their needs.
Tim: That's a good point. What are you seeing, on average, in terms of transitioning kids back into more of a mainstream approach?
Sam: The honest answer is there's not enough good research. What's challenging is that it's such a heterogeneous population. Let's look at my third-grade classroom. I had a student from China who had a great education in China and didn't speak any English, but he knew how to make his own flash cards and his math was better than other kid's math. He was going to be okay. Whereas it was harder for my student who was in a refugee camp and only had a year and a half of school. It tends to be easier for Spanish-speaking newcomers because they're speaking a language very similar to English, and there are many Spanish speakers in the field of  education. If you're in a lower incidence language, it's much harder to get those instructional resources and help from adults. For example, in California, about 80% of our English learners speak Spanish at home. Whereas, amongst our newcomers only 43% are Spanish-speaking. That's why one of our biggest challenges is differentiating this extremely heterogenous population.
Tim: I think the national data is not far off from California's data. If you could give our listeners one piece of advice, what would it be?
Sam: We know from the research and our lived reality that relationships are everything for newcomers and their families. Invest in those relationships. If you can, learn some of a student's home language. Even greeting a student and their family in their home language can be significant. Look at the instructional resources out there. There aren't as many good ones as I wish there were, which is something we need to look at, but National Geographic and Bridges to Academic Success have good stuff.  If you're looking for a whole school model, no one does it better than the Internationals Network. Fugees is also doing great work.
The book Humanizing Education for Immigrant and Refugee Youth: 20 Strategies for the Classroom and Beyond by Monisha Bajaj, Daniel Walsh, Lesley Bartlett and Gabriela Martínez came out in 2022. What I love about this book is that it has 20 case studies — each about four pages — and they're brilliantly written in an actionable way. They tell you generally what should be done and pair them with real-life examples.
Merideth: Thanks, Sam! As you were talking about the wraparound needs of newcomers and partnering with local agencies, I wondered how schools and educators balance being so overwhelmed and overburdened with being this all-encompassing place for children and families.
Sam: My first thought is that it's totally unfair to expect our schools and our districts to take the place of local government. But it's what we must do since no one else is going to do it. If a district or school can invest in a staff position that works to build relationships with community-based organizations (e.g., a county health department or other groups that are ready and willing to help kids and their families), it's one of the best investments they can make. If you invest in one staff member, you can bring a ton of other people and resources on board that want to help, and they just need a way and a place to plug in.
Merideth: Thank you for that, Sam.
Sam: I'm just thrilled that WIDA is interested in newcomers! Tim, it's been exciting to see you so engaged in this national field development work. I'm looking forward to how we develop as a cohesive, national field within the next two to five years.
Tim: That's a great note to end on. There's always more to do, and we're excited to be involved and partner with you, Sam, as we consider this very important topic.
About Conversations with Tim
Conversations with Tim, WIDA Founder and Director is a WIDA news article series that features a conversation between WIDA Founder and Director Tim Boals and a colleague or two in the field of multilingual learner education. Together, they discuss the important innovation, research and collaboration taking place today.