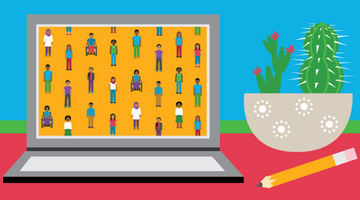 May 13, 2022
This just in: Some elements of WIDA AMS are getting an upgrade for the 2022-23 school year! All enhancements will be live on July 1, 2022, in conjunction with the opening of the 2022-23 WIDA Screener administration window.
If you're unfamiliar with WIDA AMS and wonder whether you should keep reading, WIDA AMS is an online ordering system and administrative portal for ACCESS for ELLs and WIDA Screener Online. It is run by our partner organization, Data Recognition Corporation (DRC).
Browse this article to learn about changes to the WIDA AMS landing page, test practice and sample items with accommodations, customer service tools and the test monitoring application.
WIDA AMS landing page
When you log into WIDA AMS, you'll notice new and improved features on the landing page: 
New, easy-to-use, clickable buttons that take you directly to the things you do the most in WIDA AMS. Things like adding or editing users, adding, editing or viewing students and test sessions, downloading Individual Student Reports and ordering and managing materials. Note: The buttons that you see are based on your WIDA AMS account permissions. 

Two new tabs: One with customer service contact information and one for public test resources – which includes tools like the test practice and test demo.
Test practice and sample items with accommodations
We've made it easier for students to use the test practice or view sample items with embedded accommodations. You'll find sample items and test practice items in WIDA AMS under Public Test Resources. Once you navigate to either sample items or test practice items, choose the grade-level cluster and domain, and then choose the version with or without accommodations. The login information will be displayed on the screen.
This feature will be available for WIDA Screener Online in July and for ACCESS for ELLs Online later this year.
Customer service tools
Everyone at DRC and WIDA wants you to be able to find what you're looking for when you're in WIDA AMS. Here are the new tools: 
60 knowledge articles on a variety of topics. These knowledge articles help address 60 of the most frequently asked customer service questions. All articles are browsable and searchable! 
Teletypewriter (TTY) support. You can use TTY when you call DRC customer service! DRC's new TTY phone number will direct callers to DRC agents trained to manage TTY experiences. 
Access to Spanish-speaking customer service representatives when you call DRC customer service. Note: These customer service reps are available by request.
Test Monitoring Application
In exciting news, we unveil a totally new WIDA AMS feature… the Test Monitoring Application (TMA)! Here are some answers to questions you might have about the TMA:
What is the TMA? The TMA allows a test administrator or test coordinator to oversee students' progress as they make their way through an assessment. You can monitor a student's status (whether they are actively testing, paused or have completed the test session), the screen each student is currently on and how many test items they have completed out of the total possible. A test administrator can also pause or stop individual students or the whole group – in the event of something like a fire alarm.
Is there anything the TMA can't do? The TMA is not a replacement for actively monitoring students during testing. Test administrators need to continue to move around the room to ensure test security and that students stay on task. The TMA is designed for the person monitoring the test and their students to be in the same building. WIDA's policy on remote testing has not changed.
Can everyone in the WIDA Consortium access the TMA? Yes, the TMA is available as an option in WIDA AMS for the entire consortium! District and school users will see the TMA as an option when they add or edit test sessions. Test administrators will be able to access the test monitoring dashboard during administration. ACCESS for ELLs test sessions set up by DRC using the Pre-ID file will not have the TMA enabled. If you want to use the TMA in your school or district, you'll have to edit the test session to require it.
When can I start to use the TMA? You can start to use the TMA with ACCESS for ELLs Online when your 2022-23 test window opens.
How do I use the TMA? There are two steps to take to start using the TMA:
First, add or edit your test sessions so that the Test Monitoring drop down is set to Required. This means that all students in the test session will need to enter a monitoring code during the login process.
On test day, log in to WIDA AMS, navigate to the Test Monitoring dashboard and locate or generate your monitoring code. Provide this code to your students. They'll be prompted to enter the monitoring code after they enter their test ticket information. As they do, you'll see them appear on the dashboard.
Not interested in using the TMA? That's fine! Just make sure Test Monitoring is set to None when you edit your test session information, and the student login process will be the same as in years past. Using the TMA is completely optional.
How do I get help once I'm in the TMA? In the Test Monitoring dashboard, go to the question mark icon in the upper right corner to access DRC's new online help feature.
Webinar recording
Want to review all this information – and more – in webinar format? Watch the DRC Technical Enhancements for 2022-2023 webinar. A valid WIDA Secure Portal account is required to access the recording.

Updated on June 21, 2022