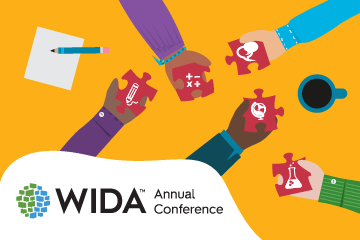 May 2, 2022
It's been more than two years since we've been able to invite you to register for an in-person WIDA Annual Conference. In super exciting news… the wait is over!
Starting… now! Registration is open for the 2022 WIDA Annual Conference (#WIDA2022). This in-person conference (see, it's really back!) takes place September 28-30, 2022, in Louisville, Kentucky at the Kentucky International Convention Center. For those who can't attend in person, a curated virtual attendance option is available.
Let's not forget that the WIDA Annual Conference is truly unique in that it's a conference by teachers, for teachers. It gives thousands of educators of kindergarten through grade 12 multilingual learners, from around the globe, the opportunity to share best practices and discover innovative classroom strategies.
Now — what you've been waiting for — more information on this year's conference and how to register.
#WIDA2022 theme
This year's conference theme is Advancing Learning Together. Here's a note from Tim Boals, WIDA founder and director, on the theme:
"If we've learned anything over the past few years, it's that we're at our best when we're working together. This is especially true for all of us who serve multilingual learners. We all bring so much to the learning experience. Because of that, we must remember to value one another, as well as collaborate with and learn from each other. It is crucial for the academic success of multilingual learners that both language and content teachers and administrators see themselves as responsible for fostering the language development of multilingual learners. Together, we can shape a strong, vibrant future!"
#WIDA2022 headliners
Two very special speakers will deliver keynote addresses during the conference.
Juliana Urtubey
Juliana, the 2021 National Teacher of the Year, will deliver a keynote address on "how educators and communities can work together in creating joyous and just education systems." 
As the national teacher of the year, Juliana spent the last year advocating for a joyous and just education for all students that celebrates their families, identities and communities. Juliana is known as "Ms. Earth" for her efforts to beautify schools and unify the community through murals and gardens. She is a special education co-teacher at Kermit Booker Elementary in Las Vegas, Nevada.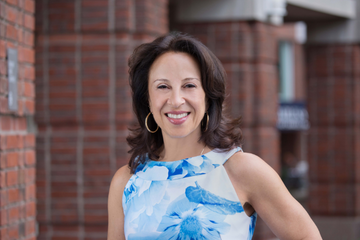 Maria Hinojosa
Maria, an Emmy-winning journalist and the first Latina reporter in many newsrooms, will deliver a keynote address on "owning your voice." During her discussion she will draw on her personal experiences and give voice to the diverse American experience.
As the anchor and executive producer of the Peabody Award-winning show, "Latino USA," distributed by NPR, as well as co-host of "In the Thick," the Futuro Media's award-winning political podcast, Maria has informed millions about the changing cultural and political landscape in America and abroad. She is also a contributor to CBS "Sunday Morning" and a frequent guest on MSNBC.
#WIDA2022 sessions
You can expect conference sessions to be on these topics (WARNING: expect pure awesomeness out of this year's sessions):
effective instructional practices
equity and social justice
professional learning in schools and districts
bi/multilingual education
language assessment 
program administration and policy
English language development
family and community engagement
specific populations: multilingual learners with disabilities, newcomers, students with limited or interrupted formal education, migrant, refugee, long-term multilingual learners
You won't want to miss these spotlight sessions:
Re-imagining EL Policy: Panel Discussion about Identification, Monitoring, and Reclassification presented by Mariana Castro, Samuel Aguirre and Nelson Flores
James Baldwin and the American Schoolhouse presented by Carl Grant
Centering Equity and the Experiences of AAPI Multilingual Learners in Education: What Matters Most? presented by Diep Nguyen, Sole Yu, Patricia Morita Mullaney and Christine Leider
Creating Supportive Science Classrooms for Multilingual Learners presented by Lorena Llosa 
New this year: Pre-registration is required for all conference concurrent sessions. Review the entire schedule of sessions so you are fully prepared to select your choices at the time of registration.
Register for #WIDA2022!
Registration rates
In-person conference: The early-bird rate is $585. This special rate is only available through May 31. 
Virtual conference: The live virtual access rate is $295. The virtual option includes a curated selection of concurrent sessions and keynote speakers. It also includes post-event access to recordings.
Ready to register? Head on over to the Registration page to reserve your seat.