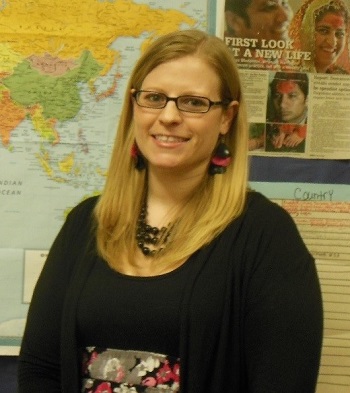 Where do you teach? What grade(s)? How long have you been a teacher and how long have you been at your current school?
I am an ESL teacher for Grades 9-12 at Fargo South in Fargo, ND. I have been teaching for 10 years and this is my fourth year here.
What is your class, school and district like? Can you tell me a little about its location, size and about the composition of the student body?
The district has 11,200 students in our 23 schools. ELL students make up 820 of those 11,000 students. At Fargo South High School, we have 989 students total, and 117 of these students are active ELLs, so this number doesn't include students that have exited the ELL program. The majority of our ELL students are refugees and immigrants.
Why are you an educator? What do you love about your job? What frustrates you?
I graduated from Fargo South and have returned there to teach, after going to college for nursing. I took a semester off to go into the Minnesota National Guard as a medic. As a female, I wasn't allowed in combat, so I got involved in teaching and medical training for troops. When I returned to college my sophomore year, I discovered that although I enjoyed the medical aspect, I enjoyed teaching and training more. I have also always enjoyed traveling. I have done several study abroad programs, so teaching language just seemed like a great fit for me.
Tell us a little about the unique literacy projects you have been doing with you ELL students.
This is the third year we have been doing our narrative writing project with my higher level ELLs, called Journey to America: Narrative Short Stories. This project was funded by a local literacy grant, and allows students to write a three–four page short story about how they came to the U.S. The grant money helped bring professional speaker and Sudanese Lost Boy, John Dau, to the school last year, in addition to helping publish about 500 copies of the class anthology (with 20–30 stories) yearly. We received local and international attention in the past three years for the stories. (See stories here; some have won awards from the Scholastic Art and Writing contest: http://ellfargosouth.weebly.com/2016-fargo-south-short-stories.html)
Our second project is a partnership with Green Card Voices to help teach diversity and tolerance with all of our ELL student. For this project, the Green Card Voices group came out to Fargo and interviewed 31 of my students (from 21 different countries) and used their video transcripts for the book that will come out soon. You can see the first interviews (more to come) on their site here: http://www.greencardvoices.com/videos/
How have these projects helped develop a sense of community in your class, school, and beyond school walls?
I think before we were able to share something like the students' stories, we noticed that our school was struggling with cultural awareness. We had very rapid growth in the ELL student population between 2000 and about 2012, due to the great number of refugees coming to Fargo. As teachers, we still needed to learn about the cultures and needs of our new students, but there wasn't sufficient cultural diversity training available. These projects have allowed the teachers to learn about what students bring to the classroom and helped us to see how we can best support them.

At first, students were nervous to share their stories. But college volunteers are very encouraging and help validate the students' stories. The kids see that we care, that their stories are important, and that we want to hear them. We also bring in other adult refugees and immigrants living in the community to share stories. They serve as models for the students and help them realize they are not alone, which builds comfort levels and confidence both in school and the community. Last year we started going to North Dakota State University and all 30 of my students read their stories aloud at a public reading. Even for a native speaker, this can be very intimidating. But we did a lot of prep work and discussed why this opportunity was important. Despite nervousness, they work so hard because they want to do well. I am beyond proud every year – it is extremely emotional.

During language week here, they read for other language classes offered at the school. This really helps the students feel that they fit in here, they belong and that their peers care about where they came from. When the students share their stories outside of school, it helps educate and broaden communal perspectives on the refugee and immigrant population.

Three of our students recently went to Bismarck to testify against the bill that would have banned refugees from North Dakota. They read their stories in front of the senators and legislators, and explained why they are productive members of the community.
How have you prepared your students to handle these situations?
We sometimes talk about the current political situation, since this is something the students often bring up and have questions about. I always say that it is even more important that people read your stories. And the students agree. They feel a responsibility to help educate others on their experiences.
Do you have any recommendations for other educators working with a similar student population or looking to engage this type of work?
Start small and with relevant examples. During our first year engaging in this work, I brought in John Dau to come and speak to the whole school. He stressed that students shouldn't be ashamed of being different or for being a refugee.

This year, we brought in speakers from the community. I think starting with the community is wonderful if there is anyone you can invite to share their stories. Additionally, Green Card Voices videos are easily accessible and serve as a great starting point for this work – as they share student stories from all over the nation. This helps students reflect on what they hear, and creates an opportunity for them to relate or discuss the story. Although I may not be able to relate to them on a personal level, not having had such an experience, I can help create a safe space that fosters connections. I always start the school year by conducting student interviews to get to know my students. We talk about their favorite sports, hobbies, and interests. These interviews help me connect with students on a deeper level and gain a better understanding of all the things going on that might impact their learning. Relationship building is critical.
How do you assess your students' language learning?
In class, we do informal assessments (such as thumb up/thumb down). I mainly work with Level 1 or Level 4 students, who are about to transition to mainstream classroom, so my assessments may differ depending on whom I am working with.

I like to use projects that are hands on and collaborative, to assess all language domains throughout the process and within a unit. For example, the English 4 students just recently did a video project around Romeo and Juliet, in which they recreated the major events from the play but in another time period or culture. This project was highly visual, hands–on, and required them to communicate in various ways which is so beneficial for ELL students and for me to see and hear their learning.

Our program is unique because we have six ELL teachers that each teach a core subject area for entry-level language learners. This allows us to build in assessments for each of the language domains and coordinate the language we are focusing on across the subject areas. For example, if we are working on the present progressive or prepositions in science class, students will also work with these language features in social studies or math. This way, kids are seeing and hearing the language multiple times a day, in multiple contexts.

We also started a class this year called Partnership. The course pairs up kids born in the U.S. with non-native students. Throughout the year, the partners work together on various fun projects like pumpkin carving or making valentines, giving them the opportunity to learn about each other's cultures.