This month's featured educator, Brenda Hamel, works as an ESL/Bilingual Resource Teacher (BRT) for 3rd through 5th grade English Learners (ELs) in Madison, WI. She has taught for 30 years across all grade levels, including adults.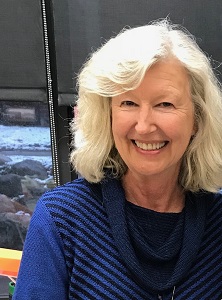 Tell us about your teaching experience and your current role.
I currently work as an ESL/Bilingual Resource Teacher (BRT) for 3rd through 5th grade English Learners (ELs) in Madison, Wisconsin, at Randall Elementary School. This is my 11th year in my current position. I have taught for 30 years across all grade levels, including adults, in a variety of settings. I spent many years in a smaller school district (Sauk Prairie, Wisconsin) and have taught in international schools in Spain, Peru, Thailand, and Tanzania.
Describe your current school and district and tell us a bit about what language services look like in your school.
Madison has a population of 247,000 and is the state capitol of Wisconsin. Madison Metropolitan School District has 27,000 students, 28 percent of whom are ELs. My current school has 353, students of which 15% are ELs. Language groups are represented at around a third Spanish, a third Hmong, and a third a variety of languages.
ELs at my school are placed in inclusive classrooms and clustered in instructional grade-level teams. As the only ESL/Bilingual teacher, I serve learners by co-planning and co-teaching within classrooms. We also have a Spanish and a Hmong Bilingual Resource Specialist (BRS) who also coordinate and translate for the parent groups and school community.
Why did you choose to become an educator? What do you love about your job? What frustrates you?
I realized early on that I would want a job that involved teaching, as I love learning and working with people. My mother was a teacher and I'm sure it influenced me. I watched her connect and inspire so many students over the years.
I've been passionate about language learning from an early age. My family moved to Chile when I was 12, and I was immersed in a school where all instruction was in Spanish. I was definitely a newcomer Spanish learner! I discovered what it felt like to be immersed and not to have any language or cross-cultural support. While that lack of support was challenging, it also gave me the personal experience to know that one can acquire language through content in inclusive settings. I experienced the "silent period" firsthand but also benefited from the positive impact of peer connections, low affective filter in class, and teacher empathy.
I have found fostering language learning and academic success to be very rewarding. I love learning about and embracing the student's rich cultural backgrounds and sharing that with the school community. I also love helping students through their challenges and seeing them grow and flourish.
What I find most frustrating in my current position is that it's difficult to be collaborative and supportive to the extent that I would like. I am the only ESL/Bilingual teacher at my current school and consequently feel stretched very thin. The teachers and staff are highly skilled and dedicated to meeting the needs of all learners, but there is always so much more one could do. I've taught in other settings where I have been able to collaborate within one grade level team and it's frustrating to not be able to provide that same level of support.
What is your approach towards supporting language learning in your classroom and school? Are certain WIDA tools helpful?
I support language learning in the inclusive classroom by always thinking about whether there is comprehensible input on some level for the EL. To this end, I work with classroom teachers to provide visuals, teach key vocabulary, model the content and language target, and create anchor charts for the students' reference. Together we create a classroom climate where there is a low affective filter and students can feel comfortable taking risks with their content and language learning.
The WIDA Can Do Descriptors are a helpful reference point to collaborate with teachers about next steps for the ELs within the content areas and to differentiate the tasks for the student. They also give excellent samples of scaffolds that we can use.
In addition, I continually check in with students one-on-one or in small groups to provide scaffolds and direct teaching of key concepts. I also make use of other times we are together to pre-teach or reteach concepts and to integrate similar learning targets. For example, if we are writing opinion essays, I may choose an opinion text for guided reading. I use the limited time I have available in each grade level to make as many connections as possible for the student.
How do you encourage students to learn? How do you accelerate their language development and ensure their equitable access to content learning?
I believe that establishing a trusting relationship is the first step to creating a learning partnership with my students. At our school, we have very active Latino and Hmong parent empowerment groups. We meet monthly, and topics of interest are chosen by the parents. It establishes a strong community of trust and support for them, which translates to the child's sense of belonging.
It's also crucial for the students to be comfortable in their classrooms, so they have confidence to take risks and be able to absorb the language and content learning. Encouraging and providing opportunities for peer relationships to develop is especially important to accelerate the language development of newcomers. A friend can teach a newcomer basic conversational English much more quickly than we can in the classroom!
I collaborate with teachers to be sure that grade-level standards are held to the same high level for the ELs. Grade-level content can be reached through different access points. For example, a newcomer in Grade 3 can learn vocabulary and concepts for a story map using an entry level book that they can understand. Native language materials can also bridge and supplement learning for the child who has those literacy skills.
Technology can also be motivating on so many levels. There are many programs (Flipgrid, Quizlet, Kahoot, and Seesaw to name a few) that we use at our school that create fun and engaging ways for ELs to practice their language and content learning. It is important to remember that many of our students don't have access to the internet or computers at home. More and more, it is the norm for home communication to be via email or websites and assignments to be required on the computer. I collaborate with our bilingual specialists to assure our families have access and translation of all school communication in written form and that paper versions of school assignments are also available.
Let's talk about the WIDA English Language Development Standards. How do you determine which language standard(s) to focus on in a lesson? How do you manage to collaborate with content area teachers?
I meet weekly with each of the instructional teams to plan units of study. Then, many informal discussions take place to meet the needs of all learners. When collaborating with the grade level teams, we start with the focus of the content standard. From there I determine what language standards are needed to meet the demands of the content. For example, we may plan for ways to engage the students in accountable talk and use sentence stems to foster more participation.
In the beginning of the year, I go over the WIDA Can Do descriptors with classroom teachers and use it with them to guide instruction and next steps for the ELs in their classrooms. Can Do Descriptors and Model Performance Indicators are great reference points to decide what supports and scaffolds the students need throughout the year as we plan together.
Additional tools that are useful in our district are the English Language Development rubrics that classroom teachers use on report cards to assess ELs' progress in speaking and writing in English Language Arts, Math, Science, and Social Studies. I find it beneficial that both the Can Do Descriptors and the district ELD rubric highlight the assets of the students and reinforce for teachers the connection between academic content and next steps for the acquisition of language.
What benefits of strength do language learners bring to your school and community?
Language learners bring so much richness to our classroom community. They teach all of us so much about resilience and flexibility as they navigate bilingualism and biculturalism.
At our school, we have a tradition of celebrating Hmong New Year, Dia de los Muertos, and Dia de los Ninos. Our Latino bilingual specialist works with families to set up an altar for Dia de los Muertos, and guardians come to school to help with the piñata and celebration of Children's Day.
Hmong families have shared much of their cultural traditions of dance and music with us over the years in a variety of celebrations around Hmong New Year. The active participation of our EL families in our long-standing parent empowerment groups has helped foster this ongoing collaboration and honoring of their cultures and contributions to our school.
What methods or tools do you use to assess your students' language learning?
I track students' progress yearly on ACCESS for ELLs and check for adequate progress and whether there are any discrepancies in growth across the domains. I use other data points such as their scores on the standardized assessments of Measurement of Academic Progress (MAP) in reading and math and their oral language score on the Mondo assessment. Ongoing informal and formative assessment take place daily across all content areas. I confer with them about their writing and integrate grammatical teaching points into their lessons as needed.
How has WIDA helped you achieve your goals as an educator?
The creation of the WIDA ELD standards along with ACCESS for ELLs have given me a standardized way to address ELs' growth over time. I appreciate the way in which the test models good instruction for ELs. The plethora of WIDA resources such as the focus bulletins, the speaking and writing rubrics, and the samples of exemplary teaching are all very helpful.