Vivian Levarek helps extend the learning beyond the walls of her classroom and helps her students apply their learning to real-life contexts. She is an advocate for her students and a resource to her colleagues.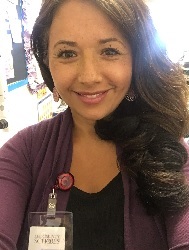 Where do you teach? What grade(s)? How long have you been a teacher and how long have you been at your current school?
I'm currently an ESL Teacher at Tramway Elementary School in Sanford, North Carolina. I have been in this position for 7 years. Prior to that, I taught English to adults in Okinawa, Japan for three years.
What is your class, school and district like? Can you tell me a little about its location, size and about the composition of the student body?
Sanford, North Carolina is a small farming community. The agricultural opportunities here have brought a lot of families from Guatemala, Ecuador, and Honduras, who have settled into the community.  Currently, I serve 56 students at the school and the majority speak Spanish at home.
Your nomination stated that you do "an amazing job bringing lessons alive." How do you do this for language learners? Why do you feel this encourages learning?
I like to use a lot of realia and visuals, and incorporate group work to help make the content accessible for my students. I prefer to do hands-on activities rather than worksheets and tests. The ELL students have to master the content and use a second language while testing. So they have two things they have to focus on while a native English speaker only has to attend to the content. So I use a lot of pictures and images to help with the linguistic challenge. I also believe in the value of providing experiences for students that will support their learning. I take students on several field trips each year.  I often use the field trips as a summative experience and an opportunity for me to make observations about their language use and to see if they can apply what we have learned in a "real world" context.

For example, we just completed a unit on interpersonal communication, so as a summative experience, I took the students to a nice restaurant for lunch and observed how they were communicating with the wait staff and with each other. I listen for the vocabulary they feel comfortable using while talking at the table and the manners they are incorporating from our lessons

I also work with teachers to integrate what they are working on in various content areas into these experiences. For example, at the restaurant, we incorporated math and the language of math while using money. This collaboration with content teachers is critical in my instruction. If there are specific language or learning targets they are working on in class, I want to make sure that I am attending to this focus when I work with students too.

Often it seems that people think ESL teachers just teach grammar, but you have to understand the content as well. You aren't teaching language in isolation, but rather it is the language of mathematics, or the language of science. The language is intertwined into the content.
How do you share the language expectations or learning goals with students?
I put up descriptors of the learning or language we are focusing on where students can see them. For example, the descriptor may read, "today we will be able to use adjectives to describe a classmate or today we will be able to create a complex sentence using the words 'and, but or so.'"  This way the students know what we will be focusing on today. This also comes into play with the rubrics I use with students.  I have adapted the WIDA rubrics to be student friendly.  We use these for peer reviews and so that they understand how I will be grading them.

Having the students use the rubrics themselves and with peers takes a little practice.  I introduce these by putting the rubric up on the smartboard just including levels 4, 5, and 6, because this is what we are working towards.  I take off the other levels since I don't want them to get distracted or feel that they can't use language at the higher levels. I know my students can and I want them to know that I have high expectations for them.  Then we talk through the terms, what language we expect to see, and so forth. Then, when they use the rubrics with each other, they are able to use the terms on the rubric.  I will hear students talking to one another about their writing, saying "hey, I gave you this score because you only had one organized paragraph, but if you would have written more on this in a second paragraph I think you would be at this level." It is wonderful to hear them use the rubrics to help each other understand where they are in their writing and what more they could have done to write at a higher level. Since the WIDA writing rubric is used to score ACCESS for ELLs, it also helps the students understand this test and how they will be scored on the assessment.
How do you assess your students' language learning? How do you use the results of formative (ongoing assessments of progress towards instructional goals) and/or summative testing (such as annual tests like ACCESS for ELLs)?
I use the ACCESS for ELLs scores to help make placement decisions for students in the following year so that they are in a classroom that will be a good fit. I do pay close attention to ACCESS scores for students who have exited language services as well. For example, if I have a student who has just barely met the exciting criteria, I will note that I want to keep an eye out for him to make sure that he is still successful in the classroom.

I use formative assessments throughout the year to see who I may need to go back and reteach something to, who may be able to teach something to another student, who would benefit from working together in a small group. Decisions such as these change frequently. What I notice in my formative assessment is also useful information for content teachers, so I share what I see when working with the students.

When I first came to this school, I noticed that a lot of my ELL students were also in the RTI process or dual-identified as both an ELL and needing special education services. But being new to the system, I wasn't sure if this was my misunderstanding. Once I had been at the school for a while, I thought, this doesn't seem right to me, and some of these kids were being referred to RTI when it was a language issue that looked like a learning disability. So now I use formative and summative assessments as evidence of what they can do in my classroom and to determine when what we are seeing is due to the language learning process and not a disability. Then I can work with teachers on which language supports will help these students in their classrooms.

I like to use the Can Do Descriptors with content teachers because it helps us talk about what student are capable of and rather than looking at deficits, we start off by looking at the strengths of a student.