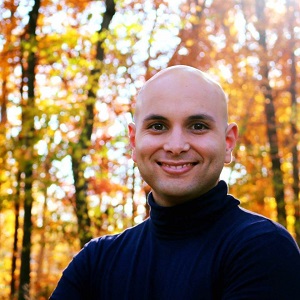 Why did you choose to become an educator? How did you come to be involved with ELL teaching? Was that something you always wanted to do or was it something you acquired because of some other experiences you had? What do you love about your job? What frustrates you as an educator?
After I honorably completed my military service back in 2010, I came to a crossroad where I did not know what I wanted to do professionally. I started volunteering at different nonprofit organizations in my community to get an idea of what I wanted to do. One of those nonprofit organizations had an evening ESL class for adult learners. The very first evening that I taught my class, I knew that I wanted to be an ESL teacher. Shortly after that, I enrolled in my first master's degree in education while simultaneously completing my teaching certification in K-12. My motivation to become an educator was fueled by my passion to help immigrant families and learners as well as by my own experience as an English learner when I first arrived in the United States.
It would be difficult for me to share only one or two things that I love the most about my job. However, what drives me to continue teaching ESL every day is knowing that I am making a difference in the lives of my students. As their ESL teacher, I am not only teaching them English; I am teaching them the knowledge they will need to succeed and survive in their new society. At the same time, it is my duty to advocate for them and defend their rights inside and outside of our classroom until they find the strength within themselves to do so.
As an educator the only thing that frustrates me is not having the power or ability to do more for my students. Many of our students come from low socio-economic households and some of them do not have food to eat, or economic means to buy scarves, coats, and boots, especially during the winter season. Although my colleagues and I do our best to help them, there are occasions when we can only do so much. Not having the economic means and resources to help my students frustrates me.
Where do you teach? What grades? How long have you been a teacher? What is your current position and how long have you been in this role?
I am a high school ESOL teacher at Laurel High School in Laurel, Maryland. I have been teaching at my school since 2015 and I have been primarily teaching ESOL Newcomers, Literacy, and Critical Reading classes to 9th, 10th, and 11th grade English learners (ELs).
Describe your class, school, and district. Please tell me a little about its location, size, and the composition of the student body? What do language services look like in your school?
Our high school has over 1,000 students and is very diverse. The staff and student body represent over 15 languages and nationalities. At our school, we offer a wide range of programs and classes, some of which are International Baccalaureate (IB) and Advance Placement (AP) classes, as well as Career and Technical Education (CTE) programs. Our school has a sheltered ESL program and we also offer language support to our ESL students in mainstream classes by collaborating with mainstream teachers. At our school, we are also working towards involving and educating the parents/guardians of our ESL student population by offering workshops in their native languages to teach them how to access an online platform that reports their children's attendance and grades.
What is your approach towards supporting language learning in your classroom and school? What techniques/strategies have you found to be most effective in teaching language learners? Are specific WIDA tools helpful?
The best approach towards supporting language learning is learning who my students are, what their needs are (instructional and non-instructional), and their academic standings the moment they come into my classroom. I cannot teach my students if I do not know them; acknowledging their knowledge is always the first step for me. Once I become familiar with my students, I use the WIDA Can Do Descriptors to guide me in drafting a realistic and individualized plan to get them from where they are to where we want them to be. Another WIDA tool I often use is the WIDA Focus Bulletin that shares information about students with limited or interrupted formal education (SLIFE), as this is an increasing population at my school.
How do you encourage students to learn? How do you accelerate their language development and ensure their equitable access to content learning?
The longer I teach, the more I realize how powerful human communication is. In my practice, I have found that the best way for me to encourage my students to learn is to show them that I really care about them, their wellbeing, and their success. Making personal connections with my students and their guardians has been, by far, the biggest contributing factor to their success and self-drive.
Making personal connections with school personnel at all levels has certainly also contributed to ensuring that my students have equitable access to content learning. In addition to being an ESL teacher, I also have the responsibility to be an extension of my students' voices and share with our school personnel their academic and personal needs. I do this by providing translation services, mentoring my ESL students, becoming a bridge between counseling and my ELs and their families, to name a few. Maintaining regular communication with school counselors, nurses, office staff, and teachers within our school has significantly made ESL students' needs and rights more visible.
How do you determine which language standard(s) to focus on in a lesson? Describe your planning process to address the needs of your students. How do you manage to collaborate with content area teachers?
Determining which language standard to focus on depends primarily on my students' needs and it is also guided by the school county's curriculum. Because most of my newcomer ELs are assigned similar classes at our school during their first year (i.e., pre-algebra, language of science, etc.), I often incorporate vocabulary and content information from those classes into my own to reinforce content. For example, recently we were briefly delving into the topic of geography of the United States and I made connections to language of history class. When possible, I also engage in cross-curricular planning with my colleagues to support the learning of language and content. Cross-curricular planning between ESL and Spanish classes has proven especially helpful for my SLIFE students.
What benefits of strength do language learners bring to your classroom and school? What benefits do their families bring to schools or the surrounding community?
Diversity, in any shape or form, is a wonderful thing. My ESL students are emerging bi/tri/multilinguals with amazing life stories to share. The more I learn from my students, their cultures and languages, as well as their lived experiences, the more I tell them how proud I am of them and their resilience. Language learners bring a unique set of skills and strengths to our schools and communities and we (as a society) are better because of them. During my time teaching at my school, I have seen students arrive as ESL newcomers and graduate four years later having earned university scholarships, joining the military, and pursuing specialized education to open their own businesses. It is this type of dedication and drive that moves our school and community forward and sets a foundation for newly arrived language learners and U.S.-born students to follow.
What methods or tools do you use to assess your students' language learning?
In recent years I have come to rely on formative and metacognitive forms of assessments to evaluate my students' language learning. Many of my ELs have after-school jobs and crave knowledge they can use right after class. For this reason, using metacognitive forms of evaluation and on-the-spot feedback have proven helpful for my learners. Also, our ESL department uses the WIDA ACCESS score reports every year to track our students' progress and identify which language domain(s) to target individually and as a group.
How has WIDA helped you achieve your goals as an educator?
WIDA has guided my lesson planning and shaped the language goals we need to focus on throughout the school year. At the same time, I also use many WIDA resources outside of my classroom to advocate for my ELs. For example, I often share the WIDA Can Do Descriptors with mainstream educators to explain where our students are and what can be expected from them at this level. WIDA resources help me and my non-ESL colleagues set realistic expectations and provide ample support to our learners.
What would you have to say or what kinds of information would you leave with educators throughout the WIDA Consortium?
Being an ESL educator is not an easy task. Many times, we find that—as ESL teachers—we are the only voice at our school challenging the deficit-mentality, confronting negative remarks, and identifying the lack of adequate support for our ELs. And yet, as ESL educators it is our duty and responsibility to continue being fierce advocates for all ELs. I want you to know that your advocacy efforts have a powerful impact in the lives of your ELs and their family members. The great majority of our EL population has overcome innumerable challenges and, thanks to you, they have the opportunity to finally learn English in a safe space that welcomes, supports, and appreciates them. My fellow ESL educators, thank you for all you do for all ELs and KEEP ADVOCATING!
You can reach Luis on his website at luispenton.com