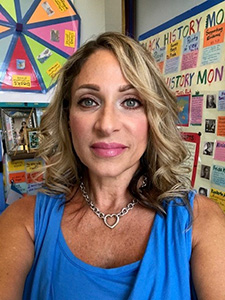 May 5, 2021
Marsia Tucci, this month's Featured Educator, lives by the motto "language acquisition will not happen in a silent classroom."
Marsia, a fifth grade English to speakers of other languages (ESOL) resource teacher at Jupiter Elementary School in Jupiter, Florida, knows firsthand how important it is to find your voice and to use it. When she was growing up, she witnessed other girls being shy and quiet in school. They were not as vocal as the boys and did not participate in class as much. Marsia was timid and did not use her voice to express her academic needs. It took many years for her to realize that she could finally advocate for herself.
"Through the trials and tribulations of life, I have found my voice, developed independent thinking, realized my value and become fearless," Marsia said. "I don't want my English language learner (ELL) students, especially the girls, to have to wade through decades of adversity and missed opportunities before they realize their worth and become strong, vocal citizens."
That's why, each day, she reminds her students to speak up for themselves and to ask for help. She believes that this daily reinforcement will prepare her students for whatever they may encounter in their life ahead.
Another part of her classroom philosophy is equity. In fact, Marsia said it's the most important part.
"I want to level the playing field and give my students everything I have in my teacher toolbox to create equitable opportunities," she said. "My first task every year is making personal connections with students. I need to gain their trust to allow students to feel safe and take chances in their academics as well as their language acquisition. Once students believe in my efforts, they can believe in their potential."
Marsia's views are shared by her elementary school, which serves 891 students in PreK through fifth grade. According to Marsia, minority enrollment is 79 percent, with most students identifying as Latino/a/x.
Marsia focuses her time on the school's fifth graders. She's found that her work with students begins right away in the morning – a great time in the day to make connections and build trust with her students by having non-academic conversations together, she said. As her students arrive to class for the day, they discuss everything from books and college to situations in their personal lives that may be weighing on them.
"Knowing that arrival is an ideal time to tap into students' trust and learning curiosity, I received permission to use my office to meet with my students," Marsia said. "My beginning speakers needed a safe place to try to practice speaking English, and so did my mentoring program for beginning speaker girls in fifth grade. They created bonds with each other and took chances in English that they would never take in class with more proficient speakers present."
Marsia, who has a bachelor's degree in fine arts, uses her background in art to bring color and creativity to those classroom conversations.
"I make colorful vocabulary cards with up to 100 new words for sets of related texts and I create graphic visuals for students to use for reference, conversation and fun learning games," Marsia said. "I use my creativity to link learning with texts, visuals, vocabulary and my students' experiences, so they can make connections to the world around them."
To continue to build their confidence, Marsia felt that her students needed more opportunities to practice their speaking outside of her classroom. So, she secured a spot for them in the school's morning announcement lineup to read poems that represented Black History Month and Women's History Month.
"They rarely have chances to speak publicly, but after practicing during arrival with me on the front steps of the fifth-grade building, they felt they were ready," she said. "That was the perfect circumstance to speak knowledgeably to an audience and gain confidence."
Since becoming a teacher in 1992, Marsia said that her time as an ESOL resource teacher has been the most rewarding.
"I wouldn't have been as successful in this role without the WIDA [ELD] Standards Framework and Proficiency Level Descriptors," she said. "Using the WIDA website as an instructional tool has proven to be invaluable as I've seen my ELL students grow academically and socially through their language development."