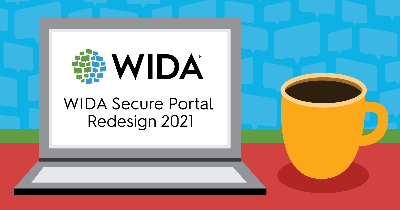 July 6, 2021
The WIDA Secure Portal is getting a makeover! Use this article to learn about what's changing, what you can do to get ready and upcoming opportunities to get more information. The redesigned portal will look and feel like the main WIDA website, with relevant assessment training, professional learning and resources that are easier to find. The redesigned portal goes live on September 1, 2021.
These changes only apply to the WIDA Secure Portal. Members of the WIDA International School Consortium can access resources and learning opportunities in the International Secure Portal.
What's changing?
For all portal users:
The content you are looking for is easier to get to! From the portal home page, you may, depending on your role/permission, have the option to select

Assessment Training to find assessment training courses and related resources.
Professional Learning to find on-demand courses.
Webinars to find upcoming and recorded webinars on topics like "Pre-Testing: Ordering Materials in WIDA AMS."
Resources to find and filter documents and secure resources.

All resources are tagged so you can easily filter to find the secure resources that accompany your assessment training or professional learning course.
Once you are in the redesigned portal& and enroll in an ACCESS for ELLs or WIDA Screener training course, you'll notice that those courses are in the same learning management system as our Self-Paced eWorkshops. Within the training courses, it's an easy path from beginning to certification. No need to go back and forth to figure out which tutorials to view or which quizzes to take!
For school and district coordinators:
WIDA is making it easier for districts and schools to manage portal user accounts, whether for assessment training, professional learning or both.
New course completion certificates clearly indicate which course your test administrator completed and when. Coordinators will be able to check on the certification status of test administrators via a reporting tool. Users will see their own certification history, and the dates they completed each course on their My Profile page.
WIDA will add two new training courses on September 1: WIDA Screener Online: Administration and WIDA Screener Paper: Administration.

These courses cover the basics of administering WIDA Screener and can be taken alongside the Speaking and Writing scoring courses. Remember, your SEA sets training and certification policies and requirements. Check your member/state page for more details.
What's not changing? 
Your WIDA Secure Portal account information will remain the same, as will the way you login to your account.
Your assessment training and certification history will be moved over to the new& system and can be accessed by you and your test coordinator.
The courses and resources you see will be determined by your account permissions and settings.
What do I need to do to get ready?
Refer to this page for additional news and updates, or follow us on social media for the latest details on the project.
Update your account information. Has it been a while since you've logged in to your WIDA Secure Portal account? Changed schools or districts? Need assistance with updating your account information? Contact the WIDA Client Services Center.
Finish all WIDA Self-Paced eWorkshop courses that you started during the 2020-21 year prior to August 31.
If you started the WIDA Screener for Kindergarten training course, make sure you finish the course and pass both certification quizzes before August 31, so that your certification history can be moved over to the redesigned portal.
Get answers to your questions
View the recording of the Get Familiar with the Redesigned WIDA Secure Portal Q&A Webinar to get answers to frequently asked questions about the portal redesign project. A valid WIDA Secure Portal account is required to access the recording.