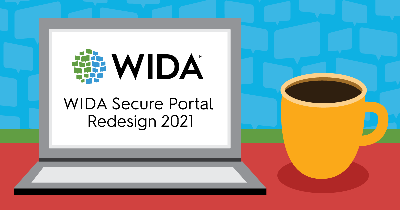 September 1, 2021
Tada! Fresh from its makeover, the WIDA Secure Portal has been redesigned for you so that you can find what you need, when you need it.
Today, we help you get familiar with using the redesigned WIDA Secure Portal.
Logging in
Log in to the redesigned WIDA Secure Portal from our newly reorganized login page! When you log in to the portal for the first time
You may have to update your password to meet more stringent requirements.
You'll be prompted to agree to the Non-Disclosure and User Agreement (NDUA) if you haven't logged in since July 1, 2021.
You'll be redirected to the Get Help page, which provides an overview of the portal and helps you get familiar with the site.
Finding content
From the portal home page, you may, depending on your role/permission, have the option to select
Assessment Training to find assessment training courses and related resources.
Professional Learning to find self-paced eWorkshops.
Webinars to find upcoming and recorded webinars on topics like "Pre-Testing: Ordering Materials in WIDA AMS."
Resources to find and filter documents and secure resources.
Viewing your profile and training history
Use My Profile (the blue button in the upper right corner of the portal) to view and update your account information — including your email/username and your password, and to view the NDUA.
Use My Profile to see your past training history: each course you completed, the date you completed it and a link to view and download the certificate for that course. The list will show each time you complete the course, so if you've completed ACCESS for ELLs Online training during the past three years, you'll see three separate lines, dates and certificates.
Getting help