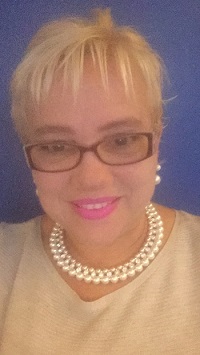 Where do you teach? What ages/grade(s)? How long have you been a teacher and how long have you been at your current school?
I am an ESL teacher for ELLs from 9th-12th grade at St. Croix Central High School, USVI. I have been teaching for 30 years. I worked at the elementary school level for 28 years and 2 years at the Central High School. I have been working at my current school for two years.
What is your class, school and district like? Can you tell me a little about its location, size and about the composition of the student body?
My class atmosphere is nurturing, loving, and respectful. I praise, motivate, and encourage my students to always try to do their best. In the United States Virgin Islands, teaching English as a second language has always been a part of our educational system. The Hispanic population of the United States Virgin Islands is about 17%. Most ELLs are first generation immigrants who have left their country looking for other avenues for a better life.

The District of St. Croix has a population of 322 ELLs from K-12th grade ELLs are placed in regular classrooms and receive ESL services. Some public schools of the Virgin Islands provide the pull-out and push-in method. At my site the ESL teachers teach content areas to ELLs from 9th-12th grade. There are no more than 15 students in each class. The USVI Department of Education has a very positive attitude towards ESL education.
Why are you an educator? What do you love about your job? What frustrates you?
Education is not preparation for life; education is life itself – John Dewey. Education begins as long as you have the use of knowledge, where you want to share what you learn with someone else or with everyone. My humble parents, both religious, attended church every day. They were my first teachers. My father was proud to be a caretaker, while my mother, with only a first-grade education, instilled in me the life lessons that helped me become who I am today.

Teaching is my passion. I enjoy every aspect of teaching and have realized in my years that students can teach us as much as we teach them. This is one of my favorite things about teaching. To me the most amazing thing is to see or hear one of your students apply the skills that you have taught them and see the excitement on their face.
What is your approach in your classroom/school towards ELLs? What techniques/strategies have you found to be most effective in teaching ELLs?
My first approach is to tell them that learning a new language is adding a new culture to their own culture. I tell them that I was an ELL just like them. It is imperative for me to be aware of my student's cultural background, be sensitive to their culture, to know them, and to analyze their data from past years in order to plan my lessons successfully.

ELLs are reading significantly below grade level in English in the Virgin Islands. I think the integration of literacy instruction is necessary and should include explicit and direct instruction in the sounds and symbols of the English language. In other words, we teach mini lessons in phonics.

The integration of oral activities and written activities aids teachers in creating a learning atmosphere that is more literacy rich but also allows children to learn more about print and its relationship to oral language. We use developmentally appropriate play based activities to scaffold phonemic awareness for ELLs through direct and active support. The effectiveness of using play and fun activities makes it easier for older ELLs to learn the English language. For example, I use hip-hop music to reinforce alphabet skills; games like scrabble and hangman to reinforce phonetic skills, and poems and songs to support the teaching of phonics to older ELL students.

I integrate activities that are age appropriate, fun, and target the academic needs of my ELLs of all academic levels. Older ESL students should engage in activities requiring the use of higher-order skills; this avoids boredom during instruction. Research confirms that explicit skill instruction is effective with ELLs who are in the initial stages of learning to decode English texts. Throughout my lessons I integrate effective teaching strategies in phonemic awareness, to provide ELLs various scaffolding techniques that are beneficial in improving sight word automaticity, vocabulary knowledge, and syntactic awareness in reading comprehension.
What benefits or strengths do English language learners bring to your classroom/school?
The elegance of their language and their culture are some of the main benefits that ELLs bring to my classroom and school. I have students from Colombia, Haiti, Dominican Republic, and Puerto Rico. It is like having a human library full of vast resources in my classroom. It is a wonderful feeling.
How do you encourage ELLs to learn? How do you accelerate their language development and ensure their equitable access to content learning?
My own experiences have forced me to be purposeful about my teaching and have shaped my attitudes. These experiences are also the reasons I strive to be sensitive about my students' various cultural backgrounds and perspectives. My philosophy of education reflects the way I teach every day. As a teacher, I try to always be enthusiastic and express a sincere interest in my students' academic success. I aim to inspire students to be more interested in the process than the product. I am constantly trying to challenge students to take a constructivist approach, ask questions, and in turn, apply their learning in diverse ways. My goal is for students to become self-directed, intrinsically motivated learners who are less concerned with grades and more concerned with gaining deeper knowledge and understanding. I hold my students to high expectations and their successes are my greatest achievements. I constantly strive to inspire them to be lifelong learners, to learn for the intrinsic joy of becoming better, and to guide them to be responsible for their own learning.
How do you assess your students' language learning? How do you use the results of formative (ongoing assessments of progress towards instructional goals) and/or summative testing (such as annual tests like ACCESS)?
I use rubrics to assess a variety of student work. The rubrics help me to assess my student's oral presentations, which typically include role-plays, interviews, oral reports, and summarizing/paraphrasing pieces of text. In addition to the results from ACCESS, I also use my students' written assignments to see how they apply their knowledge of English over a wide variety of concepts. I use the results to provide my students the appropriate scaffolds and to measure my students' language learning progress.
How do you model and embrace being a life-long learner?
When I look back on my career I am very honored at many of my personal accomplishments. I pioneered the first Saturday Academy at the Evelyn M. Williams Elementary School. Countless students were given that extra day to stretch and become outstanding students. I have always embraced all students and community members from the Hispanic culture by conducting events to help students understand the role that Hispanics have played in both U.S. and V.I. history during the celebration of Hispanic Heritage Month. Legislators, community leaders, political representatives, musicians, and historians are invited to the schools to interact with students during the celebration of Hispanic Heritage Month.

I have completed my master's degree as an English as a Second Language teacher at the University of Turabo in Puerto Rico. I feel deeply honored and privileged to have accomplished this milestone. My immediate goal is to continue teaching and empowering my students to become successful English Language Learners.