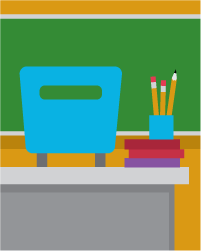 Tell us about your school and your background.
I teach English as a Second Language at the Eulalie R. Rivera Elementary School. It is located on the island of St. Croix, United States Virgin Islands. My students are English learners in Grades Kindergarten through 6th grade. My role is to provide language instruction, classroom support, modifications, and accommodations for English learners. I also serve as my school's interpreter for Spanish-speaking parents. I have been an elementary school teacher for 28 years and an ESL teacher for 10 years. Most of my teaching career has been as a bilingual teacher to students in Kindergarten through 4th grade. My students are mostly Spanish speakers. Many English learners are first- or second-generation students. They come from the neighboring Caribbean islands of Puerto Rico and the Dominican Republic.
What do language services look like in your school?
At my school, English learners receive pull-out and push-in instruction for 45 minutes daily. As the only ESL teacher at my school, my responsibility is to co-plan and provide mainstream teachers with accommodations suitable for individual English learners. It is imperative that I collaborate with other professionals to bring along the creativity to consider the needs of our diverse students. The St. Croix district's English learner population is small, with approximately 300 students. The languages spoken are Spanish, French Creole, Tagalog, Arabic, and Serbian. The general student population is descendants of the eastern Caribbean islands whose families have moved to the U.S. Virgin Islands mostly for better social and economic reasons.
Why did you choose to become an educator? What do you love about your job? What frustrates you?
When I was a kindergarten student, I only spoke Spanish. I was placed in a mainstream classroom without any support or resources. For this reason, I do understand and empathize with students who struggle academically due to the lack of effective language learning opportunities and programs. At this tender age, I came to the realization that helping children learn was my calling in life. I have known since the first grade that I wanted to become an elementary school teacher. It is my belief that all learners can grow and achieve success academically. They first must be placed in supportive and nurturing environments. I always made it my responsibility to help my younger cousins with homework assignments and projects. This was my personal passion. I love all aspects of my job.
What brings absolute joy to me is witnessing the academic growth and strides my students achieve in the target language. My ultimate goal is to empower my students with effective learning strategies. I also hope to help them develop the desire to embrace lifelong learning.
Absenteeism at times seems to be my biggest frustration. Research shows high absenteeism affects academic achievement. It is immensely detrimental to a student's future academic success. Therefore, I am constantly trying to improve my students' attendance rates.
What is your approach towards supporting language learning in your classroom and school? What techniques/strategies have you found to be most effective in teaching language learners?
My approach to teaching language learning is to build my students' self-esteem first. I constantly remind my students that nobody's perfect. I urge them to be unafraid of making mistakes while learning English. I believe in creating an atmosphere of respect and rapport where English learners are like family members. Some techniques and strategies that I have found most effective are pre-teaching vocabulary, using visual aids, activating prior knowledge, and modeling.
Pre-teaching vocabulary is essential to all English learners. Students succeed academically when we increase their vocabulary. Besides presenting a new word, meaning, learning image, and gestures when possible, I incorporate phonics rules for younger and beginning students.
I also like using visual aids, such as learning images, graphic organizers, and real objects. Visual aids greatly increase comprehension for ELs while making the connection with the lesson being presented. When I make connections between what my students already know and the new concepts I present, lessons come alive. I love to see the sparkle in my students' eyes and excitement when a lesson instantly becomes relevant and meaningful to them.
Activating prior knowledge is also an essential strategy. English learners need to be able to visualize and connect to what they already know in order to comprehend new concepts and ideas. The idea is to build on my students' own experiences so that content learning can become more accessible. I always provide a model of the assignment I want my students to complete. Modeling clarifies confusing directions and demonstrates the quality of work I expect of them. I am also better able to support my students with their daily assignments from their content area classes through modeling. My goal is to actively engage students in their own learning and motivate them to persevere and achieve their highest academic potential.
How do you encourage students to learn? How do you accelerate their language development and ensure their equitable access to content learning?
I encourage my students to learn by getting them excited about their language progress, rewarding their strengths, and helping to strengthen their weaknesses. I also vary my instructional strategies. I accelerate their language development and ensure their equitable access to content learning by first believing that they can achieve academically like their peers in the mainstream classroom.
I aim to address the four domains of reading, listening, speaking, and writing by being sensitive to students' different learning styles. Visual learners are supported through learning images, graphic organizers, and technological activities. Auditory learners are given the opportunity to listen and repeat important details through poetry, songs, and chants. Tactile and kinetic language learners engage in fun movement through the Total Physical Response (TPR). I also use word and sentence building puzzles, which are memorable for language acquisition.
To ensure an equitable learning environment classroom, teachers are given an accommodation form for each individual English learner at the beginning of the school year. These accommodations seek to foster that type of environment for language and content learning. I make it a top priority to collaborate with classroom teachers, reading specialists, and special education teachers in order to ensure that ELs are provided with equitable learning opportunities. I strive to create safe classroom cultures that respect and honor the needs of all my English learners.
How do you determine which language standard(s) to focus on in a lesson? Describe your planning process to address the needs of your students. How do you manage to collaborate with content area teachers?
I determine which language standards to focus on in a lesson by evaluating data from progress monitoring and summative assessments. I also make notes during interactions within the mainstream classroom setting of skills that require re-teaching or reinforcement. Ongoing formative assessment measures, such as observations and rubrics, ensure that each English learner's needs are met and that work is at the appropriate instructional level.
My planning process begins with recognizing and incorporating my students' individual cultural and linguistic differences, while developing standards-based lessons. Designing lessons with English learners in mind to support access to rigorous grade-level instruction is pivotal. I know that English learners can develop vital language skills through varied opportunities to listen, speak, read, and write. It is important to provide them with a variety of interesting literature and informational texts.
I focus on collaborating with content area teachers to ensure those language learners are not left behind while learning vitally important content material. My main priority is to accelerate learning gains for my ELs. English learners require multiple opportunities throughout the day to interact with their English-speaking peers to practice their oral and written language skills. This can be acquired through cooperative learning group tasks and paired classroom assignments. Cooperative learning strategies promote critical thinking and language development for ELs. When English learners work in collaboration with their peers it fosters a strong community within the classroom setting.
What benefits of strengths do language learners bring to your classroom and school? What benefits do their families bring to school or the surrounding community?
Language learners bring their diverse cultural background and unique experiences to my classroom. Our world is fast changing. Students of diverse backgrounds who learn, work, and play together are at a greater advantage and are better prepared for their future ahead. Every year, during the Hispanic Heritage Month celebration at my school, students are able to showcase their cultural backgrounds in the forms of poetry, dance, music, food, and arts and crafts. I also have an afternoon activity called Spanish Zumba. This activity promotes Latin music and rhythmic fitness moves. The student body is also invited to the annual Spanish sing-along. This activity promotes learning to sing in Spanish. ELs take great pride when they are tasked with teaching pronunciation of newly acquired Spanish words to their peers and teachers. Parents and stakeholders from the community are invited to partake in this month-long celebration by reading aloud to primary students, playing cultural instruments, and preparing cultural drinks and dishes for faculty, staff, and students to sample and enjoy. Hispanic community leaders bring a sense of pride, enthusiasm, and encouragement to our school. English learners can envision the possibility of becoming future community leaders too.
The benefits their families bring to my school and the surrounding community is commitment and insight regarding their children. Parents bring their skills, hobbies, and talents. At my school they assist during annual events such as the Agricultural and Food Fair school display booth with creative arts and crafts and Children's Festival Parade with festive parade preparations. Dedicated parents help reduce the achievement gap and improve academic outcomes for their students. Their level of engagement is not only a benefit to their children but to the entire school community.
What methods or tools do you use to assess your students' language learning?
I use a variety of tools to access my students' language learning, such as the WIDA Model and ACCESS 2.0 score reports. I also use portfolios, graphic organizers, performance tasks, writing assignments, and observations. Anticipation builds every May, as I wait to see my students' WIDA ACCESS score reports. These score reports help me plan ahead for individualized student instruction for the upcoming school year. Portfolios allow me to realize the steady growth of my students. I can see the date a kindergartener came to school writing a squiggly line for his name and the date he finally learned to write his full name on his own.
One graphic organizer method, the KIM Strategy, is an absolute favorite of mine because it helps ELs organize, visualize, and make connections with new vocabulary and content. I personally like writing assignments, because I can evaluate how my students are applying their English skills over a wide variety of topics. It is important for students to see their written thoughts from another person's perspective. It helps them become more aware of their own language development. The WIDA Writing Interpretive Rubric is an asset in scoring these assignments. Where would teachers be without observing and measuring their student's growth? Paying attention to what my students can do and where they need extra help is both a constant challenge and at the same time, very rewarding. Observations give me the opportunity to make modifications and enhance my lessons.
How has WIDA helped you achieve your goals as an educator?
WIDA has certainly helped me achieve my goals as an educator. Tools such as the Can Do Descriptors bridge communication between classroom teachers and the ESL program, which is essential in providing differentiated instruction that is crucial to ELLs. Classroom teachers can clearly see where their ELs are and what they can expect from their students, as well as how to move them further along. WIDA sample tests provide necessary opportunities for my students to practice as much as they like before taking ACCESS for ELLs. This approach gives ELs a level of comfort when they actually take the test. English learners require ongoing assessment for language growth throughout the school year. The WIDA Speaking and Writing Interpretive Rubrics are useful tools when scoring English learners' work in the ESL and mainstream classrooms. These easy-to-use rubrics help mainstream teachers and me understand and analyze the current proficiency levels of our English learners.