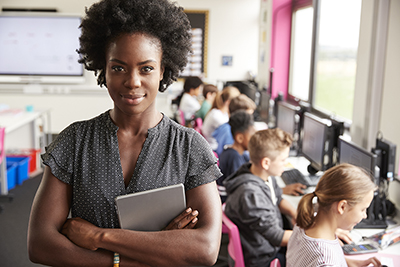 August 5, 2021
In recent years, interim assessments have become a popular topic among educators, policymakers and educational experts. With limited time and resources, educators are justifiably wary of adding one more thing to their full plates, unless there is proven value in doing so. The true value of an interim English language proficiency assessment is the real-time data it provides that can then be used to guide instruction, monitor student language growth, predict student performance on summative assessments, and help educators make informed decisions about curriculum and programming. This data allows educators to pivot when needed to ensure students are receiving proper instructional supports, and to differentiate instruction to better serve each student's needs.
With several options available, choosing an interim assessment to measure students' English language proficiency (ELP) may seem like a daunting task, however, it doesn't have to be. Educators and school and district leaders can make an informed decision by using research-based interim assessment adoption criteria. WIDA MODEL, a flexible, on-demand assessment, is the only interim ELP assessment that meets all the criteria that exemplify an effective measure of multilingual learners' language development.
Interim Assessment Adoption Criteria
1. Based on sound language development theory
WIDA MODEL was developed by the same experts that developed ACCESS for ELLs and WIDA Screener and uses the same six language development levels as all other WIDA resources. It is therefore the only interim ELP assessment that is consistent with WIDA English Language Development (ELD) Standards Statements, WIDA Can Do Descriptors, and all other WIDA assessments and educator materials.
2. Consistent with the 2012 WIDA ELD Standards
While other interim ELP assessments have attempted to retroactively fit with previous editions of the WIDA ELD Standards, WIDA MODEL is the only interim assessment built from the ground up based on the 2012 Amplification of the WIDA English Language Development (ELD) Standards. These standards underlie the entire WIDA assessment system, which includes ACCESS for ELLs and WIDA Screener. The WIDA ELD Standards Statements reflect the belief that multilingual learners are best served when they learn content and language together and thus WIDA MODEL assesses students on
Social and Instructional Language
Language of Language Arts
Language of Mathematics
Language of Science
Language of Social Studies
Furthermore, WIDA MODEL provides a snapshot of a student's English language proficiency in the four language domains of Speaking, Listening, Writing and Reading. All test items for WIDA MODEL have either been adapted from ACCESS for ELLs or written to similar specifications as ACCESS for ELLs items.
3. Delivers statistically reliable and valid results
All WIDA assessments, including WIDA MODEL, are built on a strong foundation of research. Tests are designed and maintained in partnership with top experts in the field. WIDA also works with educators from around the world to ensure the tests are informed by best practices in the day-to-day education of multilingual learners.
For example, WIDA recently refreshed content on WIDA MODEL Online, Grades 1–12, which entailed a rigorous and highly detailed field test. In developing new content, WIDA worked with the Center for Applied Linguistics (CAL) and MetriTech to ensure the highest quality of all new test items. Two educator review panels reviewed the refreshed content and performed bias and sensitivity reviews. Educator feedback was incorporated into the new content, followed by completion of embedded and stand-alone field tests. An in-depth analysis and summary concluded the project with the details released in the WIDA MODEL Online 2020 Field Test Technical Report.
4. Provides meaningful score reports and interpretations
Because WIDA MODEL is an on-demand assessment, it can be administered at any time during the school year with performance results reported in real time. WIDA MODEL Online provides three score reports: the Individual Student Report (ISR), the Location Roster Report (school and grade-level data), and the District Roster Report (district-level data). All reports include scale scores and proficiency levels scores, by language domain, as well as composite scores. Additionally, the ISR is available in 10 languages, giving families the opportunity to better understand their student's linguistic abilities, actively engage in their education, and advocate on their behalf. The WIDA MODEL Interpretive Guide for Score Reports details the meaning of the scores reported for WIDA MODEL and their intended purposes.
5. Includes clear test administration procedures
WIDA MODEL includes a library of training materials for test administrators, including administration manuals, one-page guides for common tasks, and grade-level-specific speaking and writing samples for administrators to practice scoring. Additionally, with the purchase of WIDA MODEL Online, account holders have access to monthly live support sessions that walk through the Test Administrator Interface (TAI), in-person training workshops for individual schools or districts, and facilitated, open-enrollment webinars focused on test administration.
Additionally, in July 2021, WIDA released several enhancements to the WIDA MODEL Online TAI based on feedback from users around the world. The refreshed TAI provides a clean, user-friendly experience with streamlined processes for preparing for and administering WIDA MODEL.
6. Predicts performance on states' summative ELP assessment
Another indicator of a good interim ELP assessment is its ability to help determine whether students are on track to perform well on future annual summative assessments. WIDA MODEL is the only interim assessment whose scores predict performance on the summative ELP assessment, ACCESS for ELLs. WIDA MODEL provides true score comparisons only found within the WIDA assessment system. The MODEL-ACCESS Concordance Table shows how a student would have scored on ACCESS for ELLs at the time of testing, allowing the educator to make informed decisions about a student's instructional plan.
Visit the WIDA website or contact Suzanne Johar at suzanne.johar@wceps.org to learn more about using WIDA MODEL as an interim ELP assessment in your school or district.