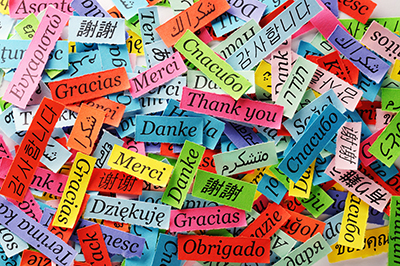 August 31, 2020
To everyone in our community, all of us at WIDA would like to say thank you. Thank you for what you do every day to serve your students and their families. We know that for many of you, the school year already feels like it is months underway with all the ongoing changes and uncertainty, as well as planning and replanning. All the time and energy you put into your work makes a difference in the lives of multilingual children and youth, and ultimately ensures their access to quality education. We have always supported you and will continue to do so, always.
Today we recognize you and how your daily efforts have helped your students, their families and your community.
On offering support to newcomers
You filled backpacks with books and other learning activities and delivered them to each newcomer's home.
You continued to meet with your newcomer families virtually and made sure to voice their needs and concerns to your school's leadership team.
You set up mentorship programs so that newcomers could interact and build trust with a seasoned multilingual learner student.
On staying connected to families
You noticed that some of your multilingual families were not receiving pertinent pandemic information, so you worked with local media and community leaders to ensure they had equitable access to information.
You invited family members to take part in virtual lessons, which created a sense of community and helped everyone practice their academic language.
You used Screencastify to record videos that helped families work on language development at home. You also made sure these videos were translated into many languages.
You used TalkingPoints to support around-the-clock communication with families.
On tending to the wellbeing of students
You made sure that your students — and your entire community — had enough to eat. Some of you set up farmers' markets and delivered lunches — complete with thoughtful, encouraging notes.
You partnered with school counselors to make sure your students had someone to talk to, and even found a counselor who spoke a student's native language.
You started a YouTube channel, inviting school leadership to read stories to students at a designated time each day or week.
You put a plan in place to ensure your students with disabilities received the services they need at home.
On finding and using virtual resources
You made sure every student had access to technology. In many cases, you and your colleagues hand delivered Chromebooks and tablets to students' homes. Some of you are even working to improve Wi-Fi capabilities in your town. And in at least one case, you put hotspots in buses and then told families where the buses were parked so that they could use the internet.
You delivered daily lessons via a local TV channel. Sometimes you delivered virtual lessons dressed in costume.
You learned. You spent hours learning new platforms and technology, working alone and with peer groups. You joined chatrooms, organizations and learning communities in order to come together and rapidly exchange ideas and find solutions. Supporting and helping each other along the way.
You used these tools*

Remind to send messages to families and students about lessons.
A cellphone, sometimes it worked better to conduct a lesson over the phone.
WriteReader to encourage students to write books (some of you are encouraging students to chronicle life during the pandemic).
Classcraft to share messages, create dynamic lesson plans and keep track of assignments.
Flipgrid to pose and respond to weekly questions, and to help get students talking and comfortable with asking and answering questions.
Reading A-Z to send leveled texts home, vocabulary resources and monitor students' fluency as they read and create recordings of books.
Reading Horizons to help newcomers with phonics and incrementally developing sight words into sentences and paragraphs.
Reading 180 to help students with their academic language progress, especially within the writing domain.
Seesaw to track and gauge a student's oral language development.
Camtasia to record and make videos.
Quizlet to create study tools like flashcards and games.
*WIDA does not advocate for or endorse any of these technologies for instruction. Schools, districts and states are responsible for making choices about appropriate and applicable technologies and products.
Thank you again for all you have done and continue to do to support multilingual children and youth, and all students, during this challenging time, and always.