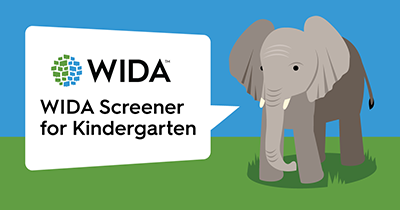 February 26, 2021
Updated March 23, 2021
WIDA Screener for Kindergarten will be available to WIDA Consortium members beginning March 30, 2021.
Start getting ready for WIDA Screener for Kindergarten today!
Check in on your member/state page throughout the spring and summer for state-specific guidance on WIDA Screener for Kindergarten. Even though the assessment will be released to the consortium on March 30, each state, territory and federal agency has a specific plan for when it will start to use the test and member/state pages will be updated accordingly.
Know what your state, territory and/or federal agency policy is on screening students. Start by visiting your member/state page on the WIDA website.
Check out the WIDA Screener for Kindergarten webpage to explore

test features
scoring
test timing
an excerpt of a test administration (video)
an in-depth look at the test (video)
Check out the WIDA Screener for Kindergarten materials on March 30!
Beginning on March 30 for some states, territories or federal agencies: Use the WIDA Screener for Kindergarten tile in the WIDA Secure Portal to find
the brand-new training course
Educators who used early editions of the training course during the field tests had this to say about it:

"This was a great training course!"
"It was very helpful! I especially liked the walk through."
"I really like the new format."
"It was easy to follow and I like that they had options of going back to redo parts of the practice you feel you need more training in."

test materials (and printing instructions)
Visit the WIDA Store on or after April 1 to purchase test kits or individual test materials. Test kits include professionally printed versions of all the same, great test materials.
Save the date!
Get answers to your WIDA Screener for Kindergarten questions!
Join Mark Chapman for the WIDA Screener for Kindergarten Q&A Webinar on Tuesday, April 27, 2021 at 1:00pm Central time. More information and login details are in the WIDA Q&A Webinar Schedule. Can't make it? WIDA Q&A Webinars are recorded and posted to the WIDA Secure Portal Download Library within a week of the presentation.
Have fun! 
Help us celebrate the release of WIDA Screener for Kindergarten by printing – and adding some creative flair – to our elephant-themed coloring page and connect the dots. Share your coloring pages on social media and tag #WIDA!