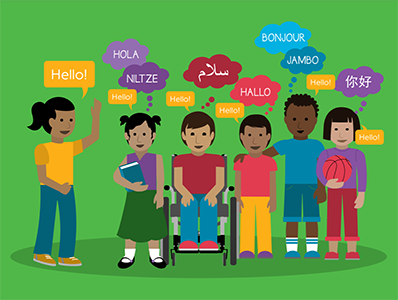 October 30, 2020
The WIDA Guiding Principles of Language Development exemplify the overarching and ever-present Can Do Philosophy of WIDA. They also guide educators in planning and delivering instruction, leveraging the assets of multilingual learners and supporting them in meeting rigorous, grade-level academic content standards. The WIDA Standards team developed an illustrated version of these guiding principles because these foundational beliefs, and the assets multilingual children and youth bring to classrooms and communities, are important first steps in the learning process. The illustrated booklet brings each of the 10 principles to life and can be used by educators to guide their conversations with parents, families and community members about the ideas behind the WIDA Guiding Principles. 
"We are thrilled to release these illustrations that show and support the meaning behind the WIDA Guiding Principles, which are drawn from decades of research and theory around language development and pedagogy," said Fernanda Marinho Kray, WIDA Standards lead content developer. "Our goal is to provide this as a resource to add to an educator's toolkit as they have critical conversations about the unique and diverse assets multilingual learners bring to their environment on a daily basis."  
The illustrated booklet is currently available in English, with translated versions coming in early 2021. The WIDA Guiding Principles statements are available in 13 languages in the WIDA Resource Library. The eSummit webinar recording, WIDA Guiding Principles in Action: What Students Can Do, helps identify some of the unique opportunities for multilingual learners in online and hybrid instructional environments — view it on the WIDA eSummit page.
Additional Resources: WIDA English Language Development Standards, 2020 Edition 
The WIDA English Language Development (ELD) Standards, 2020 Edition, will be released in early winter, 2020-2021. WIDA has a variety of resources and learning opportunities to guide educators as they take the next steps to learn about the 2020 Edition: 
Recordings and session PowerPoint slides, handouts and answers to participants' questions, are available for all three eSummit WIDA ELD Standards, 2020 Edition sessions. To access them, visit the WIDA eSummit page.  
Visit the 2020 Vision page for additional resources about the 2020 Edition, including the 2020 Vision flyer and WIDA Focus Bulletins that feature the "Big Ideas" of the 2020 Edition. 
Upon release, the 2020 Edition will be available as a downloadable PDF document on the WIDA ELD Standards page and for purchase in the WIDA Store.