WIDA Alternate ACCESS Updates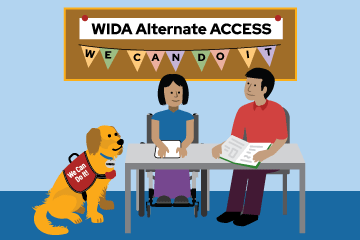 After years of test development, the redesigned Alternate ACCESS for ELLs is launching for the 2023–24 WIDA testing year. As part of the redesign, WIDA is retiring the name Alternate ACCESS for ELLs. The new name of the assessment is WIDA Alternate ACCESS.
Before we share more, let's paws (Candoo couldn't resist) to give a WIDA thank you to the thousands of students and teachers around the WIDA Consortium who participated in the Alternate ACCESS Field Test. Because of this effort, we can move forward!
What's New

When you test your English learners with the most significant cognitive disabilities during the 2023–24 school year, you'll use a test that

Incorporates the WIDA ELD Standards Framework, 2020 Edition
Covers kindergarten, which is part of the new K–2 grade-level cluster
Includes brand-new test content and a new test item type
Contains an Individual Characteristics Questionnaire (ICQ), which is part of WIDA Alternate ACCESS. The ICQ captures characteristics of students who take Alternate ACCESS. Test Administrators will fill out the ICQ for each student and that information will be reported on the Individual Student Report. ICQ information can help educator teams make program decisions for students. Example ICQ
Has a new look: Candoo, the Alternate ACCESS dog, adorns test materials and we carry over the field test color scheme
Has a redesigned training course, which has new content and a new look and feel

WIDA Alternate Proficiency Level Descriptors

The new Alternate Proficiency Level Descriptors (Alternate PLDs) are an extension of the PLDs found in the WIDA English Language Development (ELD) Standards, 2020 Edition, and describe the continuum of language development. The Alternate PLDs are organized into five levels of English language proficiency for two communication modes: interpretive and expressive.

WIDA, with the help of classroom educators, created these proficiency levels to be unique to this assessment.

Get familiar with the brand-new Alternate Proficiency Level Descriptors.

Updated score report information

When score reports start getting released in fall 2024, you'll notice some changes:

There will be two Individual Student Reports, one for educators and one for families.
Alternate ACCESS proficiency level scores will range from Proficiency Level (PL) 1-5 and will be unique from other ACCESS assessments.
A student who scores a PL 1 on Alternate ACCESS is not necessarily performing at the same level as a student who scores at the Entering proficiency level on ACCESS for ELLs Online or Paper.
Proficiency level scores will describe a student's performance in terms of the five WIDA Alternate English Language Proficiency Levels:

Level 1: Entering
Level 2: Emerging
Level 3: Developing
Level 4: Expanding
Level 5: Bridging
What's Happening
2023
June
WIDA and the Center for Applied Linguistics (CAL) select final test items for WIDA Alternate ACCESS
WIDA researchers compile and analyze field test feedback
Alternate ACCESS for ELLs: Administration and Scoring training course is archived June 30
September 1
The redesigned WIDA Alternate ACCESS: Administration and Scoring training course is available
Winter – Spring 2024
Recruitment begins for WIDA Alternate ACCESS standard setting study
WIDA Alternate ACCESS is used by all sites in the WIDA Consortium
2024
July
Standard setting event held for WIDA Alternate ACCESS
August – September
WIDA and CAL present cut score recommendations for WIDA Alternate ACCESS to WIDA Executive Committee for their endorsement
Fall
2023–2024 WIDA Alternate ACCESS scores released in WIDA AMS and reports delivered to district/school sites
Note: Scores for ACCESS and Kindergarten ACCESS are released according to regular reporting schedules.
Get Involved
Browse the Building an Assessment page to learn more about the test development process and then fill out the assessment events participation survey to share your interest in getting involved.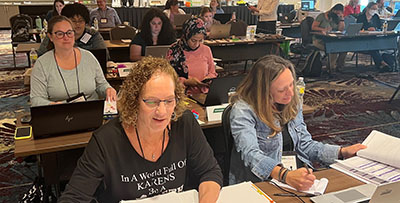 Standard Setting 101
Standard setting is a process through which proficiency level scores are determined, and cut scores are set for an assessment. Cut scores delineate the level of student performance needed to meet the expectations of each proficiency level. For example, what scale score does a student need to receive a proficiency level of 2.0 or 3.0 at their grade level? Cut scores also assist states in determining the appropriate level a student must achieve on WIDA Alternate ACCESS to be considered proficient in English; in other words, to no longer require English language support in the classroom.
Standard setting must be conducted after the first operational administration of a revised assessment.
Educators, including English language, content, and special education teachers; school and district administrators; and state education agency representatives from across the WIDA Consortium will participate in standard setting events. These meetings will be conducted by WIDA with support from our partners at CAL.
WIDA Alternate Screener
WIDA Alternate Screener is in development! One of the central elements of the Advancing ALTELLA project is building a screening tool that appropriately identifies students to participate in WIDA Alternate ACCESS. Project team members are working with educators on a new family/caregiver questionnaire and other key components of the screening tool. Before we can share a release date for WIDA Alternate Screener, we need to complete a few more stages of the WIDA Alternate ACCESS test development process, like the item selection and standard setting events.