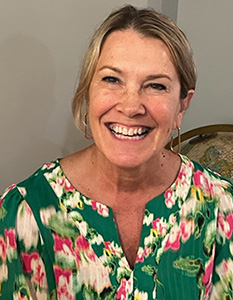 September 11, 2023
In this edition of Featured Educator, we meet Michelle Skinner. Michelle has been teaching for more than 20 years. Her career in education has a bit of a unique beginning — Michelle was initially a corporate meeting planner for a financial services firm. While in that career, she realized her calling to be a teacher and went back to school. The rest is history! Michelle spent the last six years teaching reading, reading intervention and multilingual learners in Illinois. Now she's making another change — Michelle is in her first year at a school with a large population of newcomers in South Carolina.
Note: The following interview has been lightly edited for clarity and length.
Can you share the story of how you transitioned from a corporate meeting planner at a financial services firm to pursuing a career in education? What inspired this change?
I thoroughly enjoyed the planning aspect of being a meeting planner, as well as the travel. However, over time my appreciation for travel decreased. This was my first inkling that perhaps a change might be in order. Then I was in a meeting with a few clients and the discussion was the menu for an upcoming event. We spent three hours discussing what color light should be used in the miniature ice sculpture portion of a dessert. I thought, "Good golly, there has to be more to life than this!"
It was then that I decided I wanted a career where I felt that I was truly contributing to the good of society. That evening I went home and told my husband that I was going back to school to get my elementary education degree.
With more than 20 years of teaching experience, what aspects of the profession have you found to be the most rewarding and fulfilling?
Seeing growth in my students is truly rewarding. When I hear a student who was reluctant to read at the beginning of the year share his favorite books during the final weeks of school, that is rewarding. When I see a student, who was reluctant to participate, actively participate in the class, that is rewarding. When I see a student who struggled with classroom expectations, actively and effectively lead a Socratic Seminar, that is rewarding.
I've been so blessed. Looking back there have been so many rewarding scenarios. While teaching AVID (a college readiness elective), I took my students on several college field trips. That exposure to college motivated many of my students to attend college. I remember seeing a former student who is now a nurse. I asked her how she determined which college to attend. She replied, "You took us there in 8th grade and I really liked it."
You mentioned teaching English, reading, and AVID at Ellis Middle School. How do you approach balancing these subjects and catering to the diverse needs of your students?
AVID was the perfect class to expand upon what was being taught in English and reading as well as all other content classes. The students read and wrote in AVID daily. The students reflected daily upon their content class learning. Two days a week tutors would come in and facilitate small tutorial groups. The groups were fluid and based on current student needs. This extra support was beneficial for all our students.
How did your experience at Ellis Middle School in Elgin, Illinois, shape your understanding of the importance training to teach English learners? What led you to pursue Illinois' ESL endorsement?
The majority of my students at Ellis were multilingual learners. I quickly realized the difference between social language acquisition and academic language acquisition. I knew I could be a better teacher, but I needed more education. Our district encouraged teachers to get their ESL endorsements, so I went back to school. I credit my ESL training for making me a better teacher not just for my multilingual learners but for all students.
As you prepare to teach in South Carolina, what strategies do you anticipate using to effectively engage and support a high newcomer population in your classroom?
I'd like to set up a club for students. Last year our MLL students would get together in my classroom after school a couple days a week to talk, work on Rosetta Stone, and ask clarifying questions with regards to their school day. It was a safe place to ask questions without judgment.
Some other techniques I'd like to use are the following:
Utilize technology, such as translation apps and language apps like Duolingo and Rosetta Stone.
Partner students and encourage students to speak in their first language.
Ask students to repeat directions and phrases.
Post cognates in the room.
Label items in the classroom in English, such as the clock, flag and board.
Always allow students "think time" and "turn and talk time."
If I say it, I show it—this year my students will speak Spanish, Portuguese and English so my Google slides will be in all three languages.
Check for understanding with sticky notes as students exit the classroom.
What role do you believe community involvement and collaboration play in creating a successful learning environment for your students?
Community involvement is crucial. The education of our students is extremely challenging and is even more challenging without parental support and community involvement.
Not to be cheesy but it does take a village. During the first two weeks of school this year, my goal is to speak to each parent or guardian and introduce myself. I have also set up an online wish list for my classroom to obtain things for my students like water bottles, backpacks and food.
Collaboration among teachers is also so important. I have learned from each and every educator I have worked with over the years. Teaching should not be an isolated competition. Sharing benefits the students and teachers alike. Students get the benefit of the best ideas we have, and teachers get the benefit of a little more time. Burnout among educators is a serious issue. I believe collaboration can help minimize that problem.
What's one piece of advice you have for other educators?
Appreciate every single student and show them that you care. Smile, say hello each morning, ask how their football or soccer practice was the night before, listen to them, acknowledge their birthday. I give them a birthday card and stretchy birthday bracelet. On more than one occasion I have seen the card I gave a student months later in their binder.
Never stop learning.
Reflect each day and make the next day even better. After more than 20 years I'm still learning and hopefully becoming a better teacher for my students.