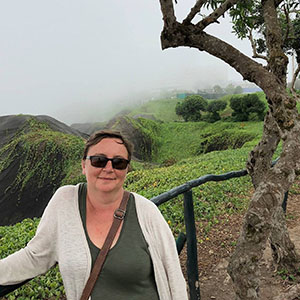 July 8, 2021
"I chose to become an educator because I have a passion for supporting multilingual learners in achieving educational equity," Maja Flom said.
Maja, who is the director of the English as an Additional Language (EAL) program at Colegio Franklin Delano Roosevelt (Colegio Roosevelt), The American School of Lima, said that her favorite part of her job is supporting faculty so that they are empowered to have the same passion she does for helping multilingual learners.
At Colegio Roosevelt, Maja has ample opportunity to bring her classroom credos to life, as the school serves more than 1,600 students who come from 41 countries. Colegio Roosevelt is an independent international school in Lima, Peru, that provides a college preparatory program in English for students who are as young as three years old all the way through high school. Spanish is the home language of most students.
Maja's passion for supporting multilingual learners guides her education philosophy, which is based on building and maintaining relationships and celebrating multilingualism.
"Students learn best in an environment in which relationships are strong, connections are made to prior knowledge, home language and culture are celebrated, and students are empowered to engage in and demonstrate their learning in a variety of ways," she said.
At her school, multilingual learners are expected to attain the same level of academic achievement as native English speakers. Maja said techniques like scaffolding academic content standards and tools like the WIDA Can Do Philosophy help her EAL colleagues find success in the classroom.
"WIDA's asset-based approach towards working with and on behalf of multilingual learners is the gold standard for our advocacy," Maja said. "The performance definitions and assessment tools help us to better understand the progressive nature of language acquisition and support instructional decision making."
Maja's EAL team routinely co-plans classroom units with content teachers. Together, they determine how students will be assessed. Then, they'll create language objectives for individual lessons and determine which co-teaching models to use to best meet those objectives.
When it comes time to assess students, one of the assessments Maja and her team use is WIDA MODEL.
"We use WIDA MODEL to assess students new to our school in order to understand their level of English language proficiency and determine eligibility for the EAL program," she said. "We use WIDA MODEL annually to gather summative data in order to inform programmatic decision making."
Even though the pandemic affected Maja's ability to gather with colleagues in person, she said that distance teaching has in many ways supported and even improved collaboration between EAL teachers and content teachers. And she hopes to leverage this change when everyone returns to in-person learning.
Maja's school is a member of the WIDA International School Consortium and she recognizes the importance of staying connected to her colleagues around the world.
"Professional learning opportunities with WIDA have benefited our faculty to develop capacities as educators of multilingual learners," Maja said.
What's next for Maja? She and her EAL colleagues are exploring the new WIDA English Language Development Standards Framework, 2020 Edition. So far, they have found "opportunities to better align our language support with contents standards."