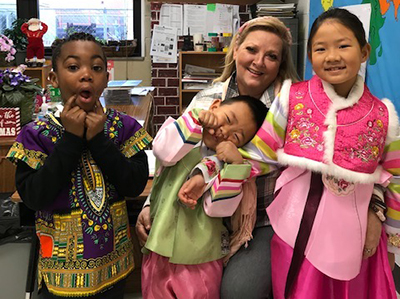 Photo courtesy Barbara Smith
"Being a teacher isn't something I chose to do, rather it's who I am." That's how ESL teacher Barbara Smith describes the all-encompassing effect that teaching has on her life and sense of self.
"I love teaching because it allows me to give students the experience of someone who really gets them, accepts them for who they are and sets their educational needs as the driving force behind everything I do," Smith said. "If I can instill in my students an insatiable curiosity for learning and the ability to think outside the box and show kindness every day in every way, then I have really done something big."
Smith has ample opportunity to help students learn and grow at Waynesville R-VI East Elementary School where she works with ESL students in grades K-5. This elementary school in Waynesville, Missouri, serves 61 EL students who speak 17 languages among them. The school district boasts nearly 400 EL students in grades K-12, many of whom live at a nearby U.S. Army installation.
One of Smith's teaching strategies is to find out as much as she can about each individual student. This is no easy feat considering Smith not only works with 61 ELs, but with each one of their 26 content teachers.
"Having a good working relationship with my homeroom teacher is essential to our EL students' success," Smith said.
Smith adds that as she and her colleagues work and teach from home, this relationship is more important than ever. She attends all her colleagues' online Professional Learning Communities and is using email to stay in constant communication about their shared students.
That's on top of everything Smith already does to ensure her students are successful in and out of her classroom.
"Each student comes to school, not only with unique academic needs, but with unique background experiences, culture, language, personality, interests and attitudes toward learning," Smith said. "As their ESL teacher I recognize that all of these factors affect how they learn in the classroom and I adjust or differentiate instruction to meet each student's needs."
Smith encourages students to learn by finding out what they like and how they learn. Then she'll adapt her instruction by presenting the same task in different ways and at different levels, so all students can approach learning in their own way.
"I truly believe there is more than one way to assess my students' progress. My students can show me, tell me, draw for me or record for me, proof that they get a concept being taught," Smith added. "The WIDA Can Do Descriptors and rubrics are posted around my room and the students have a 'can do' checklist so they can take responsibility for their learning."
Smith describes herself as an "out of the box thinker." She fills her classroom with hands-on tools like games, puzzles and educational toys — she takes pride in the fact that she hasn't used a textbook in her classroom in eight years.
"I spend endless time online combing articles, going on ESL sites (including WIDA), finding resources like Project Based Learning tools, HyperDocs and Reader's Theater to ensure my students have equitable access to content learning," Smith said. "There's a reason the bookmarks on my computer are several pages long."
Connect with colleagues, find resources that help
"WIDA is my go-to place for resources, great rubrics, research and a forum to learn from other ESL teachers from all over the country," Smith said.
Looking for tools for your virtual classroom or a way to connect with WIDA colleagues like Smith?
The WIDA COVID-19 Updates webpage includes a curated catalog of resources for you and your community:
Tips for parents and families
Educator connection and collaboration
WIDA staff recommendations
Mental health and staying well