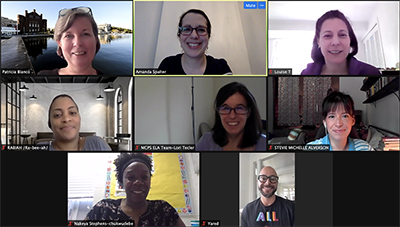 June 2, 2021
This month, the WIDA Early Years team is pleased to share insights from a local team of leaders and coaches! Over the past school year, WIDA Early Years partnered with Montgomery County Public Schools (MCPS) in Maryland to develop and deliver virtual professional learning for PreK staff centered on a language-focused approach to supporting young multilingual children and their families.
The purpose of this collaboration was three fold: a) provide technical assistance to the leadership and coaching teams, b) help MCPS build a team of local facilitators who can provide support and professional learning to PreK staff on the local implementation of Early Years resources and c) deliver virtual professional learning for teams of teachers and paraprofessionals in PreK and Head Start classrooms. The project team designed professional learning for PreK staff to increase participants' knowledge and skills in
Self-reflection on language and culture  
Equitable language-focused relationships with families of multilingual children  
Observing and gathering information on multilingual children's language use and development across various settings and over time 
As this unique project comes to an end, members of the MCPS leadership and local facilitator team reflected on this past year and generously shared their insights around the work they've accomplished. Below are some highlights from what the MCPS team shared about this collaborative professional learning experience.
What have you valued most about this collaboration with WIDA Early Years? 
Tamisha: As a district leader of ESOL and Two-Way Immersion, I have valued the collaboration that we have had this year with our district level Early Childhood team and school staff. We have worked extremely hard to fully understand and grasp each other's work with early childhood and language development principles and philosophies. We took it a step further to collaboratively align our work to ensure that students and families have a rich learning experience as they acquire additional language while valuing cultures and cultivating a sense of belonging for families and students. This work has brought an enhanced cohesion to our district level teams that has deepened with this partnership. 
Rabiah: I place the greatest value on the interactions between the coaches, the teachers, and the paraprofessionals who participated in this professional learning. The interactions involved very rich, deep discussions about ourselves, the students and families we serve, and science of teaching and learning. We strengthened previous relationships and built new ones as we learned so much from each other. 
How was this collaboration with WIDA Early Years different from other collaborative projects you have engaged in?
Verna: The need to move all professional development to a virtual setting created a unique opportunity for us during this collaboration. Not only were we able to completely customize the training based on the needs of our teaching teams, we were able to reach a large staff and make them feel like the WIDA team understood their needs as teachers of language. At times during the PD, it felt like the facilitator was speaking directly to the individual rather than to a large group of educators. I believe the content of this training will stay with the teachers and paraeducators for years to come.
Yared: The collaboration with WIDA Early Years was different from other collaborative projects I have engaged in because WIDA Early Years completed a needs assessment and developed tailored professional development to meet the needs of our staff. It was a beautiful experience that provided a safe space for our teachers and paraeducators to grow, learn and self-reflect together. Throughout the sessions, participants saw the importance and value everyone plays in serving and supporting our young multilingual learners and their families.   
Tamisha: The collaboration with the WIDA Early Years team was different because it was more comprehensive. This project included virtual professional learning and coaching sessions, as well as collaborative planning of the learning materials. It also bookended with leadership calls to ensure we were meeting the needs of all stakeholders, leaders, coaches and school-based staff. WIDA Early Years allowed us to be flexible in our approach and was appreciative of our ideas and feedback throughout the process.
What opportunities for continued professional learning has this collaboration opened up for you? For your colleagues?
Tamisha: The ESOL team is at a great place for continued collaboration with our early childhood partners. Our next steps include going into classrooms to observe language instruction and coach teachers and paraeducator teams on the learning they acquired during the WIDA Early Years project.
Louise: This work has also offered me the opportunity to collaborate and build bridges with my district colleagues across our content specific teams. This will support the work we do as a district in the future.
Louise, Lori and Rabiah agreed it gave them an opportunity to engage in self-reflection around their own practices and ideologies. Yared and Louise appreciated the WIDA Early Years asynchronous modules made available.
Lori: I also have a bank of resources to draw on to help teachers to support multilingual learners and their families.
What advice or suggestions do you have for other districts that wish to engage in this type of collaboration with WIDA Early Years?  
Rabiah:
Schedule facilitator coaching sessions prior to the professional learning 
Include paraprofessionals with their teacher partners 
Provide a space for smaller group interactions 
Encourage courageous conversations 
Lori: Jump in and try! This has been a great opportunity for professional growth for district and teaching staff alike. Using the needs assessment data helped us to work with WIDA staff to tailor the learning to meet the specific needs of our teachers and families. When professional learning is well aligned with identified needs, staff is engaged and able to apply the content to their work to benefit everyone.
Daniel: Envision what the core WIDA principles are for your district. Don't be afraid to make changes in district approaches and stakeholders to more closely align with the very equity-minded principles of the WIDA framework.
Yared: This type of collaboration provides staff with a valuable experience to look at the unique cultural and linguistic assets their youngest learners and families bring and using those assets to create a purposeful, language-focused, equitable, and positive early learning experience.   
Tamisha: My advice to districts that are engaging in this work is to start small and then bring to scale. Identify the group of schools or classrooms that you want to begin this journey with. Identify schools and staff that are early adaptors of new ideas so that the acceptance of the new learning and ideas are welcome. [Therefore,] Leadership understanding, buy-in and accountability is critical to begin this work. 
WIDA Early Years consistently partners with state agencies. However, this was the first time WIDA Early Years collaborated with a local district. The success of this collaboration offers promise for future partnerships between WIDA Early Years and local districts and programs.
Daniel: This was a powerful experience in how organizations can work internally and externally in collaboration to develop professional learning.
The WIDA team would like to thank all the members of the MCPS leadership and coaching teams who, at the time of the project, served in the following roles at MCPS
Leadership Team
Verna L. Washington Supervisor, Prekindergarten/Head Start Unit
Tamisha L. Sampson, Supervisor of ESOL Pre-K-5 Instruction & Pre-K - 12 Assessment and Title III
Instructional Specialists
Daniel Yip
Lori Tecler
Louise Tolin
Melisha Creef
Nakeya Stephens
Rabiah George
Yared Velazquez-Guider
In closing, we want to extend our gratitude to all the MCPS teachers and paraprofessionals who participated in the professional learning and shared their knowledge and experience with us, and most importantly with each other. Thank you for all you do for multilingual children and their families.
About the Author
Patricia Blanco a professional learning specialist with WIDA Early Years. Her work focuses on designing and facilitating professional learning opportunities for educators who work with young multilingual children and their families.