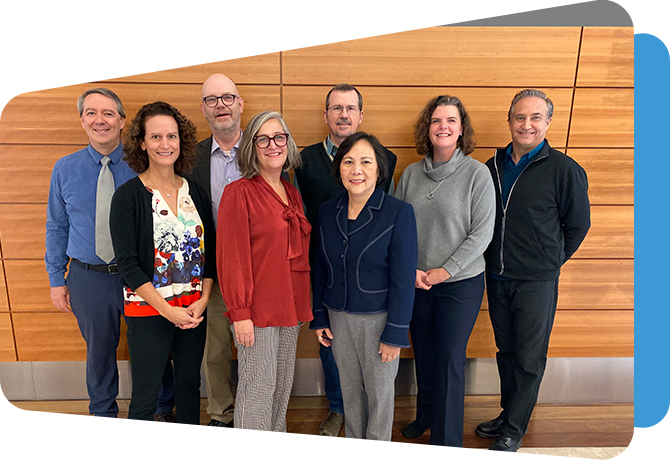 Extensive experience dedicated to advancing our mission
WIDA's leadership team brings extensive expertise in the fields of language education, test development, research, policy and professional learning, in addition to operational strength in marketing, finance, IT and HR.
Tim Boals, Executive Director
Tim has been a language educator for more than 30 years. His career has included work in Spanish, bilingual and ESL programs at the K-12 level, as well as leadership in state departments of education. Most recently, Tim's work has focused on research, development and leadership of WIDA at the University of Wisconsin-Madison. His expertise ranges from curriculum, classroom and language assessment to language policy and practice for multilingual learners.
Heather Buettner, Director – Communications and Market Expansion
Heather spent more than 20 years in corporate marketing and innovation before joining WIDA. Her expertise is in strategic communications, branding and audience-centered solutions.
H. Gary Cook, Senior Director – Assessment
Gary has more than 30 years of language testing expertise. His background includes experience as an English language curriculum and test developer, academic content test developer, state assessment director, vice president of an assessment company, research director and technical advisor. He has published widely in the area of English language assessment and assessment policy. Gary serves on several state and national committees relating to English learner assessments, state content assessment and assessment policy.
Jonathan Gibson, Director - Consortium and State Relations
Jonathan has nearly 30 years of experience serving multilingual K-12 students as a teacher, district and state EL program coordinator. Most recently, he has served as a WIDA State Relations Specialist. He now leads the work at WIDA to support and engage state education agencies across the WIDA Consortium.
Dan Machmeier, Director – Information Technology
Throughout his 30 years in IT, Dan has been adding value to organizations by delivering both internal and external facing information technology solutions. His experience in a variety of industries, organizational cultures, and technology roles have formed a diverse and flexible skill set positioned to solve problems in a growing organization.
Ngoc-Diep Nguyen, Director – Educator Learning, Research, and Practice
Diep has more than 30 years of experience in public education. Her career spans bilingual program and district administration, as well as teacher education and research. She has expertise in school leadership, language assessment and multicultural/multilingual education.
Merideth Trahan, Chief of Staff
Merideth brings more than 30 years of experience in non-profit and higher education program and organizational development to WIDA. Her expertise is in talent development, strategic planning, program evaluation and internal communication.