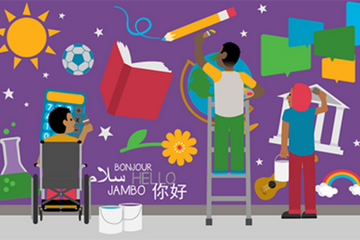 August 17, 2022
Here's a list of what you need to know about WIDA assessments, educator resources to use in the classroom and professional learning opportunities for the 2022–23 school year.
Assess
Teach
Learn about the WIDA English Language Development Standards Framework, 2020 Edition on the following web pages:
We recently enhanced the WIDA Español webpage to be your one-stop shop for valuable resources, professional learning and ways to connect with other teachers. So, if you are an educator of Spanish working with bi/multilingual learners, you'll want to bookmark this page and check back often!
Check out the new Spanish language arts framework (Marco ALE). Marco ALE presents the foundational elements of language arts to inform the design of standards and instruction in Spanish for grades K–12. Learn more about Marco ALE and the two supporting documents on the Marco ALE webpage.
The WIDA Illustrated Guiding Principles of Language Development are now available as a printable poster set! These classroom posters bring each of the 10 guiding principles to life and can be used by educators in classrooms and with parents, families and community members.
Take a moment to reflect upon your current family engagement practices with the new article It takes more than a village: Challenging the status quo and establishing inclusive family engagement practices (also available en español).
Visit the Family Engagement webpage for resources to strengthen connections with families. New additions to this page include resources that were recently translated into Dari, Pashto and Ukrainian and a WIDA Snapshot about partnering with families for the purpose of promoting multilingual children's language development.
Attention science educators! The popular Teacher and Student Discourse Moves are now available in Spanish. Get the free, downloadable documents on the Doing and Talking Math and Science website.
Grow
Attend the 2022 WIDA Annual Conference virtually from September 28–30! The virtual program includes three days of live sessions and features two keynote speakers as well as spotlight and concurrent sessions. A recording-only option is also available so you can participate in your own place, at your own pace. Learn more and register on the 2022 WIDA Annual Conference website.
WIDA eLearning offers two formats of virtual Workshops that allow consortium members/states to bring quality professional learning right to your computer. Learn more about facilitated and self-paced offerings on the eLearning webpage.

Research
ICYMI (in case you missed it), WIDA has published three new Focus Bulletins this year:
Peruse the Research webpage to dig deeper into how WIDA experts are leading the way in building knowledge about supporting the academic and social success of multilingual learners. 
Stay Connected
Get the best of WIDA in your inbox. We offer several newsletters and informational emails on a variety of topics related to multilingual learners. Subscribe to receive messages from WIDA.
Follow us on social media. Connect with us on Facebook, Twitter and Instagram to stay up to date on the latest news in multilingual learner education and to enter one of our social media giveaways!
Join the conversation with thousands of colleagues. The WIDA Educator Exchange Facebook group is a space where approximately 7,000 members exchange ideas, share resources and engage in discussion to support multilingual learners. The Supporting Success for Multilingual Learners with Disabilities Facebook group has more than 1,000 members and focuses on sharing resources and ideas for supporting multilingual learners with disabilities. The WIDA Enseñando en español Facebook group is a brand-new group for educators of Spanish working with bi/multilingual learners. ¡Nos vemos ahí!
Reach Out
If you need anything from WIDA, our Client Services Specialists are just a phone call or email away. All of us at WIDA appreciate you and want to make sure you have what you need to best support students and families.