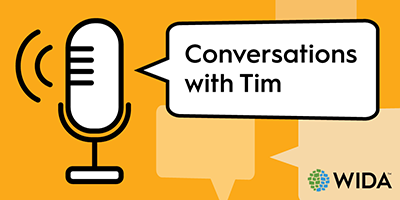 August 5, 2021
This month, Conversations with Tim features a discussion between Tim Boals, WIDA founder and director, and Jo Napolitano. Jo is a veteran journalist who has worked for news outlets like The New York Times, Chicago Tribune and Newsday. In 2016, she won a Spencer Education Fellowship to Columbia University in support of her reporting on immigrant youth. Jo's first book, "The School I Deserve: Six Young Refugees and Their Fight for Equality in America," is on shelves today.
Tim and Jo sat down (virtually) with Merideth Trahan, WIDA chief of staff, to talk about "The School I Deserve."
This conversation has been lightly edited for clarity and length.
Listening option: If you want to listen to Conversations with Tim while walking the dog or driving, now you can!
Listen to the audio here or continue reading the abridged version of their conversation below.
Tim: We are really fortunate today to be speaking with Jo Napolitano, a highly respected author and journalist, about her new book, "The School I Deserve."
Jo: I am thrilled to be here!
Tim: What prompted you to write "The School I Deserve?"
Jo: I've been a journalist for about 20 years for The New York Times, Chicago Tribune and Newsday, often covering education news. Back when I was at Newsday on Long Island, which is where I grew up, there was a school district called Hempstead that received about 1,500 unaccompanied minors in the 2014-2015 school year and had turned many of them away. My colleague, Victor Ramos, and I hammered out that story every day. We had many, many stories on the district over a year period. At that point, Long Island only had maybe 3,000 unaccompanied kids and it seemed like end of times for some reason. It made me wonder – are these children having difficulty enrolling in other districts as well? So, I went on to Lexis Nexis using the term "immigrant education" and found numerous instances where kids were facing discrimination in other areas of the country. That made me feel like this is an underrepresented group that, at the time, had very few advocates. It made me kind of think this was a hidden problem going on that I wanted to learn more about.
Merideth: When we talk about unaccompanied minors, oftentimes they come to the United States to live with a relative who's already here. How would you describe their living situations?
Jo: Unaccompanied minors are making a difficult journey, often from Mexico or the northern triangle countries, through the help of coyotes and smugglers, some of whom are very unscrupulous, and landing sometimes in the U.S. They may join a parent who's already here whom they might not have seen in many years. They may join a family friend. In some cases, kids join people who exploited them either sexually or for labor. I write about a case at an Ohio egg farm in which a group of children was exploited and not given permission to go to school and just worked all day under the threat of death for their families. It's a pretty tenuous, difficult situation for these children to get here and it shows you how much worse things are in their home countries that would drive them out.
Merideth: That really creates an image of the lives of the children we are talking about.
Tim: Tell us a little bit about your childhood and what got you interested in writing.
Jo: I was born in Bogota, Colombia, and abandoned by my birth mother at a bus stop a day later. She walked up to a stranger and said, "can you hold my baby, I have to go get her blanket." And she never returned. That stranger waited with me for ostensibly a few hours and ultimately took me to a police station. I was placed in a pretty well-known orphanage where I stayed for three and a half months and, unfortunately, only gained about two pounds of weight between when I arrived at five pounds and left. I was near death and it caused some serious health problems for me. Acute starvation for an infant is not a fun thing to experience.
I was ultimately adopted by a blue-collar family from Long Island, New York, who flew down to get me. My mother restored my health through a dense combination of lasagna and meatballs. Unfortunately, my family fractured shortly after that. My father left and took every penny we had, and I was raised by my single mother with no college education but she had a very strong work ethic and passed that on to me.
I also had a great public school. My teachers were wonderful, and they all were knowledgeable on the subject area they taught. The buildings were well maintained, even though they were aging. My classes had reasonable sizes and I had a lot of AP classes offered. I was able to get into Northwestern University's Medill School of Journalism, where I went almost for free. And in a couple of years landed an underling job at The New York Times. Prior to that, I lived in McAllen, Texas, as a reporter for three years. That city is where you see almost all of the unaccompanied kids coming over. When I would go out to do my laundry, which was outdoors, you would oftentimes see someone using our laundry area as a stopping point to just get a few hours' sleep on their way north, on foot. You might walk in the laundry room, and someone pops out and keeps running. McAllen is just a few miles north of the border, so it was a really fascinating place to live.
Tim: You can definitely see how the topic of immigration is very personal to you.
Jo: I believe in the opportunity of all children, or in the potential of all children, regardless of the country they're born in. Whether it's in conflict, whether they are penniless, whether they're starving to death in an orphanage.
Tim: Let's turn our attention to your book. What did you discover in writing the "The School I Deserve?"
Jo: I discovered that we all assume that everything is so easy for immigrants that come here. Everything's handed to them, it all works out. I think people have a really misinformed idea of what happens and how difficult it can be for families to access various services. Particularly for those who are undocumented. The children at the heart of my book were refugees who came to America at the nation's invitation and had built-in rights. Children who come here undocumented are really vulnerable. My main character, Khadidja Issa, is a refugee, she has protection, but other families don't. It is not easy for these families to access all that they deserve in many different communities.
Tim: Let's dive into the book a little bit. Could you talk about one of the refugees and read something to us?
Jo: Khadidja Issa, who's the child at the heart of the book, is an enormously dedicated, strong, unstoppable young lady who's truly inspiring in her own kind of quiet way. When she was turned away from her school district in Lancaster, Pennsylvania, she knew that was wrong even though she didn't know the law. Her family came in such a humble position. They literally landed here in New York City in 2015 and were driven to Lancaster by volunteers. They landed here without a literal dollar. They were told "do not bring suitcases, do not bring your belongings, bring your clothed bodies," that's it. That's a pretty humble way to arrive in a country where you don't speak the language and you know nobody. But that's the situation in which she and her family came. It was Khadidja, her mother, and Khadidja's five siblings, one of whom was in her mother's belly when the when the plane landed in 2015.
Now, I'm going to read a little bit of the first chapter of the book, which is called "The Longest Goodbyes."
Khadidja Issa spent the early morning hours of August 16, 2016, consumed with worry. By the time her lawyer pulled up to her family's modest apartment at 7:00 a.m. to retrieve her, she was wide awake, just as she had been all night. The eighteen-year-old Sudanese refugee, who had moved to Lancaster, Pennsylvania, in the fall of 2015, had no idea what the day would bring. Never before had she seen the inside of a courtroom—not in America and not in her home country. But there she was on that cloudless summer morning, about to embark on a ninety-minute journey to Easton, Pennsylvania, to tell a federal judge why she was suing her local school district just ten months after arriving in the States.
The sinewy teen was too fidgety to eat, but, dutiful as she was, she scrambled eight eggs for her mother and five younger siblings and set the meal aside in a chipped ceramic bowl so that breakfast would be ready when they woke a half hour later. The task complete, she headed back upstairs to smooth her hair and dress for the occasion. Eager to impress the court, she picked out her finest clothes: a pair of dark blue jeans faded at the thigh, a crisp, white long-sleeved shirt a touch too big for her narrow frame, and, to the amusement of her attorneys, a spotless pair of gold-colored high-top sneakers. She tucked her pale blue headscarf behind both ears and headed for the door, trying to remember what her mother, Mariam, had been telling her all week: "Just listen to the lawyers. They'll know what to do."
The day had just begun but already had broken a dozen years of tradition. As the eldest daughter in a Sudanese family, Khadidja was tasked with caring for her younger brothers and sisters and had spent every morning for the past twelve years waking them from sleep and corralling them for breakfast. As soon as she was able, she took to carrying the smallest among them in a sling on her back. By the time the family arrived in Lancaster, only baby Howa was young enough to be secured this way, her legs straddling Khadidja's slender waist as she swept the floor or washed dishes. From the front, it often looked as though the teen had sprouted two tiny feet from her sides.
Though she enjoyed her place in the family hierarchy—a sideways glance from Khadidja could stop a fight in an instant—she aspired to be more than a caretaker. She dreamt of becoming a teacher or a nurse, and she learned from the adult refugees and volunteers who visited her family during their initial months in the States that such a journey could begin in only one place: her local public high school. Khadidja had no doubt she would be admitted. All three of her school-aged siblings were accepted with ease. One by one, they filled out the required paperwork, winced through their immunization shots, and tried their best to pull together the necessary school supplies. But Khadidja wasn't given that chance. When she met with school officials inside the district's administrative offices in the fall of 2015, they told her through an interpreter she was too old to enroll and should instead look for work. "But I do not want to get a job," she pleaded in Arabic, her voice a high-pitched chirp. "Why would I work if I don't get an education?"
Tim: What would be some of the key takeaways for teachers reading these very powerful stories of students?
Jo: I know that our ESL teachers are already remarkable, and they have a strong sense of what these kids are facing. I know their kids may not open up in detail with them about what they went through. It took me years to get the straight story from Khadidja and how difficult her journey was, but I know the teachers can kind of piece together from various students what's driving them from their homelands. I think there's a frustration among ESL teachers that general ed teachers are not given the training that they need to accommodate these children in their classroom. I feel like general ed teachers, though they are incredible and devoted and have built their lives around education, they may feel kind of intimidated by having a child in their classroom who speaks not a word of English. Like, how can I possibly reach a child who speaks Fur like Khadidja does, which is the language of Darfur, Sudan. How do I communicate at all with a child who speaks a language I've never even heard of? I never heard of Fur before I met Khadidja.
There are techniques, there are things you can use. I don't know a word of Fur, but I've spent the past five years with Khadidja. There are ways to communicate beyond, of course, our magnificent ELL/ESL teachers can share that, and they do. I just feel like they don't have an opportunity to share their training enough so that everyone in the school is competent to deal with these children. I think that needs to be a national focus. We need to learn how to serve these children because it's our moral responsibility and we reap enormous benefits when we do this correctly.
Tim: Absolutely. In fact, what you just said ties in with WIDA's mission very closely. We're all about helping teachers have the resources that they need to do a better job of educating multilingual learners and understanding the issues that they face. So, we really feel strongly about your book as it clearly illustrates these issues so well. I've started reading the book, and I can't wait to finish it!
Jo: That's great! My mom is kind of like my target audience. My mom did not go to any college or anything like that and I always write for her. So, when she told me the other day that she read the first chapter and said it was a really easy read, it flew by, I was really excited about that, and I hope people feel that way.
Tim: Well, that's cool. I really appreciate you joining us today, this has been a great interview.
Jo: I'm so grateful for your time. I really hope people give Khadidja a chance. I know they'll walk away inspired and think about what's going on in their classroom and what they can do. No district wants to be on the losing end of a multimillion-dollar lawsuit. We should, all of us in the education world, be familiar with this courtroom drama.
About Conversations with Tim 
Conversations with Tim, WIDA Founder and Director is a WIDA news article series that features a conversation between WIDA Founder and Director Tim Boals and a colleague or two in the field of multilingual learner education. Together, they discuss the important innovation, research and collaboration taking place today.