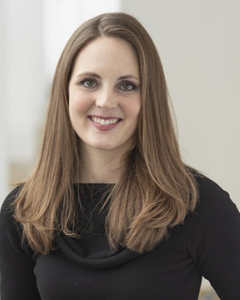 May 10, 2022
In this edition of Featured Educator, you get double the fun content! Not only do you learn about Christy Osborne, an English learner consultant at Oakland Schools Intermediate School District in Waterford, Michigan, but you also get a sneak peek at her 2022 WIDA Annual Conference session: Honoring Heritage & Language in Asset-based, Culturally Responsive Classrooms. Two must-read topics brought to you in a Q&A format.
Note: The following content has been lightly edited for clarity and length.
Tell us about you! Let's start with your background and why you chose to pursue a career in education.
In my 20 years as an educator, I've had the opportunity to be a classroom teacher, English as a Second Language (ESL) coordinator, educator of English learners (ELs) and most recently, an EL consultant at the county level. Choosing a career in education felt so natural that it seemed like more of a calling than a choice. I was raised by a family and extended family of educators, and education felt like home. Though the choice itself was simple, taking a position as a coordinator and educator of ELs is what truly awakened my passion and drive for equity.
Tell us about your current position and how long you've been in this role.
Three years ago, I accepted a position as an EL consultant at Oakland Schools Intermediate School District. Alongside my colleague Suzanne Toohey, we support, consult, coach and facilitate professional learning for EL educators, classroom teachers and leaders. Stepping into this role has allowed me to widen opportunities and support system-wide change for our county.
Briefly describe your school and district.
119 languages are spoken among more than 13,000 Oakland County students identified as ELs (7.5% of our population). The top languages spoken include Spanish, Arabic and Japanese. We welcome families from a variety of backgrounds, such as Afghan new arrivals, refugees, exchange students and expatriates. As a result, there is a lot of variety when it comes to language services in our 28 public school districts and 23 public school academies.
What aspects of your job do you enjoy?
EL educators in Oakland County, Michigan, are incredible! We learn so much from each member of our EL community, and work closely with our ESL Leadership team which includes dedicated educators and leaders from 12 districts across the county. I have to give our team a HUGE shout out, because they are absolutely amazing and have worked tirelessly by our side to navigate challenges while creating essential resources for our county.
What's a fun fact about you?
My friends might call me adventurous… but what they might NOT know is that to me, adventure is pushing myself to try new things that I'm a little scared of. Travel is a great chance for me to step out of my comfort zone. One thing I've realized is that I will eat anything once. From taking a bite of a giant, Amazonian River snail in Peru to slurping soup with unidentified animal parts from a street market in Thailand, I've found each meal to be an experience that led to conversations, connections and new perspectives.
Tell us about your 2022 WIDA Annual Conference session, "Honoring Heritage & Language in Asset-based, Culturally Responsive Classrooms." What can attendees expect to learn?
EL educators are already engaged in the work of honoring heritage and culture in their classrooms and communities, and this workshop is designed to anchor our practice to equity frameworks such as Teaching Tolerance's Social Justice Standards and Gholdy Muhammad's "Cultivating Genius: An Equity Framework."
Our time together will be a space for rich discussions about what is already working, with a goal to spread impactful practices in our communities. Culturally and linguistically responsive practices are often viewed as separate, but EL educators know that they are the foundation of what we do. We can teach rich content and WIDA aligned standards, while honoring the heritage of multilingual learners in our curriculum.
Since the 2022 WIDA Annual Conference is still months away, are there resources or reading materials on the topics you'll cover during your session that folks could start digging into now – to get ready?
Absolutely! It's important to anchor our practices to equity frameworks that are grounded in research. As a starting point, I recommend exploring Zaretta Hammond's "Culturally Responsive Teaching and the Brain." This work begins with us, and there's no way around the hard work of looking inward to examine how we show up in our own identities as we look for ways to effectively bring this work into our classrooms. For those who seek to lead equity work in their districts, you'll find an excellent framework and foundation in the book "Cultural Proficiency: A Manual for School Leaders."
As you look for ways to integrate cultural responsiveness in your curriculum and instruction, find a group of committed colleagues and read "Cultivating Genius: An Equity Framework." There are several webinars and panels available online that will enrich your discussions.
Sydney Snyder and Diane Staehr Fenner wrote a fantastic book focused on multilingual learners that is anchored in equity frameworks: "Culturally Responsive Teaching for Multilingual Learners: Tools for Equity." This book helped me sharpen the language I needed to bring multilingual learners into conversations of equity, and the tools throughout the book are designed to help us advocate for their unique strengths and needs.
For someone who is just getting started on creating a culturally responsive classroom, what should they do first – is there a logical/not so daunting first step?
There is an entry point for everyone. At the same time, it is an ongoing journey – it is truly inside out work. A willingness to be vulnerable and comfortable with not knowing all of the answers is the first huge leap. I encourage all who have the heart for this work to think through two things: What are simple actions I can take tomorrow? and What are long term goals I have to continue learning and growing my equitable mindset as an individual and an educator?
The simplest entry point is to seek ways to diversify our resources. Look for ways our classroom and curriculum can reflect the cultures and identities of our students as windows, mirrors and sliding glass doors, as Rudine Sims Bishop explained in her essay, "Mirrors, Windows, and Sliding Glass Doors."
Anything else you want to share?
I want to thank all of the educators and leaders who work every day to serve multilingual learners and families. The connection you have with our multilingual communities and the heart that you bring to this work makes a difference. You make a difference. Keep advocating for change. Keep taking your seat at the table. Keep being awesome.