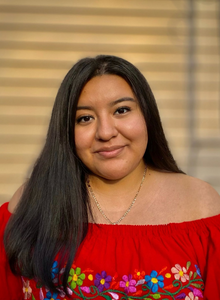 September 7, 2022
In this edition of WIDA Featured Student, we spotlight Elizabeth Carrillo, a 2022 WIDA high school summer intern. During her internship, Elizabeth spent eight weeks working with teams across WIDA on several projects. Some of this work included providing and gathering feedback on ACCESS for ELLs (keep reading for some of these insights). 
Let's get to know Elizabeth through a conversation (which has been edited for clarity and length) with Katie Stenz, a communications specialist at WIDA. 
Katie: Can you tell me a little bit about yourself, like where you grew up and what high school you attended?
Elizabeth: I was born and raised here in Madison, Wisconsin. I recently graduated from Madison West High School. And now I'm continuing my education at Madison College.
Katie: What do you like to do in your free time?
Elizabeth: In my free time I like to watch some TV shows and I've been getting into reading lately.
Katie: What TV shows and books have you been into?
Elizabeth: I've been into K-dramas, Korean dramas. I started two books: "Verity," by Colleen Hoover, and "The Seven Husbands of Evelyn Hugo," by Taylor Jenkins Reid.
Katie: Those titles sound very intriguing! Tell me more about the K-dramas you've been watching.
Elizabeth: I just finished watching "The Korean Odyssey," which was pretty great. It had a bittersweet end. I also saw "Manifest."
Katie: Nice! You said you're heading off to Madison College this fall--do you have any thoughts on what you're going to study, or what you want to do after you're done at Madison College?
Elizabeth: My plan is to go into nursing. I'm still looking into what type of nurse, specifically, since there are a lot of types of nurses. I was thinking about ICU nurse or maybe labor and delivery.
Katie: Is there any reason you're drawn to the field of nursing?
Elizabeth: Since I was little, I wanted to be in the medical field. Right now, it's just choosing what exactly I want to be in the medical field.
Katie: Going back to talking a little more about you and life at home--can you talk about what languages you speak at home versus outside of your home?
Elizabeth: When I'm home, I speak both English and Spanish. I speak mostly Spanish because of my parents, but I also speak English because of my brother and my cousin. When I'm out, I guess it depends where I'm at. Like if I'm with my friends, most of them speak Spanish and I would just switch back and forth from Spanish to English.
Katie: You mentioned having a brother. Do you have just one sibling?
Elizabeth: I have one little sibling and then I have two older sisters and one older brother.
Katie: Do they live at home with you, or do they live somewhere else?
Elizabeth: Two of them are in Mexico and one is in New Jersey.
Katie: Is your family from Mexico?
Elizabeth: Yes, my parents are from Puebla.
Katie: Going back to your time in high school, what were some of the classes that you enjoyed and what did you like about them?
Elizabeth: In high school, I was in dual language immersion, so basically, I had some classes in Spanish. Then I was also in AVID [Advancement Via Individual Determination] for most of my high school years. I think I enjoyed those classes the most, and my Spanish classes, because there were often similar teachers that I got to know, and I got to speak Spanish comfortably. Then with my AVID class, I stuck with the same teacher for four years and the same classmates, so it was fun to get to know them from Freshman to Senior.
Katie: That's awesome to have a group of people that you have been with for four years. That kind of segues into my next question, which is what does being multilingual mean to you?
Elizabeth: To me, I like being multilingual. Being able to know more than one language. It's nice, you can communicate with other people and you're able to help others. I will say, those are the pros, like helping people. For example, if you're in a mostly English environment and you see someone struggling with the language, you're able to help them translate or just help them in general. It feels nice. I will say the cons for me is that growing up, I was the only one who knew English in my household. So, I would be the one having to translate most of the stuff, and it was kind of hard because you don't necessarily go to school to learn how to translate government documents or medical stuff.
Katie: That is a lot of pressure on you to translate those types of documents. I'm guessing that your parents are very appreciative of you. Switching gears to your work at WIDA, what projects are you working on while you're here? 
Elizabeth: The one I'm most focused on is the assessment project. It's a big project.
Katie: Does part of this project involve interviewing teachers?
Elizabeth: It was mostly interviewing students. I wasn't able to contact all my teachers yet.
Katie: What's it been like to interview students?
Elizabeth: It hasn't been that bad. Most of the people I interviewed I knew or had classes with, so it was a little comfortable asking them questions.
Katie: What did you learn from talking to them?
Elizabeth: Some of them have similar ideas. I learned from one person that their parents opt them out of the ACCESS test, which is something that I didn't know was possible.
Katie: What were you hoping to learn from them? Are you bringing back feedback to WIDA about how we could improve the assessment?
Elizabeth: Yes, and some had answers about what they should improve. There were others who didn't have any suggestions.
Katie: I hope that we can take what you learned and make the test better! I know that a component of your work at WIDA is social justice related. What do you think schools and teachers can do to address social justice issues and uplift student voices?
Elizabeth: You're mostly in a white environment, so teachers addressing those issues is kind of hard for them, but at least [they're] trying to address it. And to have a space where those cultural students know they can say their opinion without being judged. It's nice, as a person of color, when you're in a completely white environment to know that you are safe to say your opinion and have a voice in there.
Katie: Thank you for sharing that, Elizabeth. Now that you've been at WIDA for a few weeks, have you learned anything about WIDA and the work that we do that surprises you?
Elizabeth: What mostly surprised me, is that WIDA is the one that provides ACCESS testing because I didn't have a clue where ACCESS testing came from. I also learned that WIDA wants to keep trying to improve testing from a multicultural perspective.
Katie: Is there anything that you've learned in the last few weeks that made you think, "oh, that's interesting, I wish I could tell my teacher about this"?
Elizabeth: That I was able to help WIDA. To give them perspective on what students have to say on the ACCESS test and the way to improve the test.
Katie: We want your teachers to know that, too. Anything else you want to share?
Elizabeth: It was a good experience being a part of the internship. It was something to explore outside of my career interests and getting to know about different career fields.
Katie: That's such a cool thing to recognize. I never had an internship that wasn't in my field – and I now realize that I should have looked for other, different experiences (I guess it's never too late…). From all of us at WIDA, thank you, Elizabeth! Thank you for lending your expertise and perspective to our work. And for taking a risk and doing an internship outside of your career interests!