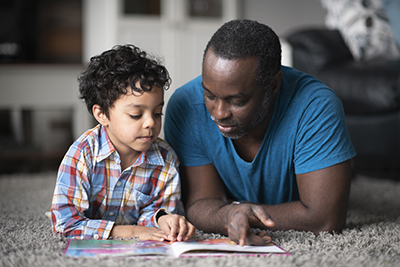 August 24, 2020
Now more than ever, communication lines between the school and the home are key. Whether students return to the classroom or education continues from a distance, administrators and teachers will both play an important role in communicating with students and families this school year. Following the example from a publication by the National Center for Family and Community Connections with Schools, the term families in this article refers to parents, siblings, extended family members, close family friends, guardians, and other adults who contribute in significant ways to children's development and education.
Communication with students and families begins with school administrators. In distance learning situations, this communication is increasingly important. The following are considerations for administrators for the new school year:
Ensure equity in decisions made by the school in support of students and families.
Implement, strengthen and maintain lines of communication with students and families in languages while leveraging mediums accessible to them.
Collect input from students and families to inform education decisions.
Inform the community of decisions made by the school with input from students and families.
Resolve concerns from students and families in a timely fashion.
Provide tools and professional development for all staff, including administrators, teachers, and school staff, to communicate effectively with students and families.
Continuously assess the number of COVID-19 cases in the community and adjust school plans as needed in order to maintain the well-being of all students, teachers and staff.
Teachers' coordination with parents will also play a key role in the success of students learning at a distance. Lesson plans should be designed to create opportunities for families to support students and facilitate learning at home in ways that are equitable, as well as culturally and linguistically responsive. The website ¡Colorín Colorado! has compiled a series of resources and ideas that teachers can use to plan classes for delivery online or over the phone. Under the section Learning Together at Home, there are a number of resources with additional information and considerations for learning remotely. There are even lesson ideas for teaching math and science with recipes. Plus, there are suggestions for teaching reading, writing and social studies by exploring signs around the neighborhood, explaining their use and having students create their own signs to resolve a local problem. The application of these resources and practices should reflect a culturally and linguistically responsive approach drawn on students' and families' local experiences and accessibility to learning tools and resources necessary for distance learning.
Teachers should remember that it is possible that family members may not have a teaching background, but are willing to support their students in learning at home. The following are guidelines that help support teachers as they adapt and develop lessons, present a lesson, support lesson activities at home and conclude lessons.
¡Inténtalo!
Lesson Development
Here are some considerations for teachers as they adapt and plan curriculum with distance learning opportunities:
Prioritize equity-based, linguistically, and culturally responsive practices.
Take the time to know your students and families and do not make assumptions on their circumstances.
Promote and support the home culture and language practices.
Consider what activities students and families can do at home while being responsive to access to learning resources and tools.
Use examples that are common to students based on local contexts.
Recommend the use of common home items in the lessons. Identify and include information about community and media resources (e.g., TV, radio and community centers) available in multiple languages to support the distance learning of students who lack or have limited access to internet or technology.
Ensure that lesson activities and online learning time expectations are developmentally appropriate. Do not forget the use of booklets, books and other paper options that students may already have access to or that teachers can help deliver to students at home.
Presentation of a Lesson
The following strategies can be used when the lesson is presented online or by phone:
Ensure that the content of the lesson is accessible to the students and families by presenting it in a multimodal and linguistically appropriate context.
Present instructions and goals in a language that the students and parents comprehend.
Be clear on the learning goals and expectations and how these will be evaluated.
Be thorough with the steps students must take to complete activities for learning at home.
Give explicit examples for the implementation of activities so that students have a sense of what to do at home independently or with the support of family members.
Be explicit on how the home learning activities connect to the learning led by the teacher (be it in person, online or by phone).
Home Activities Completed by Students and their Families
After the teacher has concluded the guided learning, students will be able to conduct learning activities at home with families. Here are some recommendations for this phase of the lesson:
Be mindful that some families may have limited time to partake in lesson activities with students.
Be accessible to parents and students to answer questions on the home-based activities by phone, WhatsApp, social media, text messages, email, or another communication medium during times specified in advance by the teacher.
For families that live in remote areas, consider whether students will need an on-site visit from the teacher.
For students who need individualized attention, support them through direct communication with parents or another adult designated by them.
Remember that every home environment is unique and the results of the student learning will vary.
Don't forget to review and revise lessons based on the learning that students demonstrate.
Conclusion of the Lesson
After students have completed their activities at home and submitted them in some format, the teacher will have to assess the learning. Here are some recommendations for this final part of the lesson:
Use formative tests to assess student growth.
Design questions that assess if the students have met the learning objectives of the lesson.
For students learning in the classroom or online, design quizzes that students can complete individually.
When conducting whole group assessments, be mindful that the results are not indicative of what students may know individually.
Communicate the results with the students and their parents.
Recommend that students, parents and families revisit areas of opportunity.
Use the assessment results to plan the next lesson.
Educator resources to support families in distance learning will continue to be essential. Visit the WIDA Distance Teaching and Learning webpage to access resources that can aide educators in providing remote instruction to multilingual learners. Resource topics include Tips for Parents and Families, Educator Connection and Collaboration as well as Mental Health and Staying Well.
Want to learn more?
Focus Bulletin, Educación en el mundo actual: Una visión para el futuro, coming soon!
WIDA Español's Focus Bulletin, Educación en el mundo actual: Una visión para el futuro, to be released later this summer, will expand on some of the concepts presented in this article. Additional topics to be discussed include educational equity and access to technology. Look for it on the WIDA Español webpage and the WIDA Twitter and Facebook pages.
Stay informed about WIDA Español
To receive occasional messages about WIDA Español resources, products, tools and services please use the form on the newsletter signup page to receive an email that will allow you to manage your preferences, and to select the WIDA Español interest area.
About the Authors
Erika Rosales is a Human Resources Coordinator at WIDA. She supports the HR team in the recruitment, hiring, onboarding process and employee relations with a focus on equity, diversity and inclusion. Erika also co-leads the WIDA Social Justice Change team.
Samuel Aguirre is the Director of WIDA Español and oversees all products and services developed for the program. He manages the research, development and delivery of WIDA resources focused on Spanish language instruction in the United States and abroad. His work oversees major areas, including those of standards for Spanish language development and for Spanish language arts, professional learning opportunities for educators working with Spanish and Spanish-English bilingual education programs and Spanish language assessment.