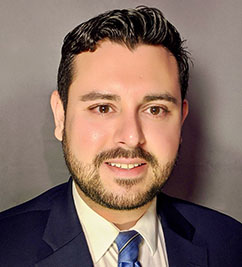 July 29, 2020
As teachers, students and families gear up for a return to distance learning, Samuel Aguirre, director of WIDA Español, wants to make sure that those who work with English learners (ELs) have the tools and resources they need to promote academic success.
In May of this year, Aguirre participated in a webinar sponsored by the National Association of ESEA State Program Administrators (NAESPA), in collaboration with TransACT Communications and Brustein & Manasevit. The title of the webinar was "Serving English Learners in a Distance Learning Environment" and after its completion, educators continued the conversation on Facebook.
The discussion generated by the webinar proved to Aguirre that many teachers and families need more information about ELs and distance learning. Here, Aguirre shares some of the educator questions and his responses from the Facebook conversation.  
How can educators and caregivers of ELs work together to best support remote learning?
Communication (written or oral) must be in a language that families and caregivers can comprehend.
For language learning, families and caregivers should be encouraged to use their linguistic repertoires to continue to tell, read, and write stories. Growth in the student's first/home language can ultimately lead to faster language development in an additional language. Parents who do not have strong English dominance can still contribute towards their students' language development by using the language(s) they speak daily. 
For academic learning, families and caregivers should be encouraged to explore learning with their students. Families do not need to have mastered skills themselves. They can approach their children's learning as an opportunity for everyone at home to learn together. This means that teachers need to be very explicit and detailed when presenting lessons virtually, be it via video, instruction sheets, etc. 
Some additional considerations are that parents are dealing with the stresses of the pandemic while also having to become home-teachers. Educators need to be strategic and targeted on what they ask of parents. Parents can learn new content, but they may struggle with having enough time to dedicate to that process. 
How are the preparations so far for returning to school in the next school year? Do you expect to have a mixed model of distance learning and learning at school?
The education circumstances in the fall will likely vary tremendously across states and even district lines. The best recommendation right now is that schools plan for both in-person and remote instruction. Identifying the changes that will need to happen in classroom and school settings is important when deciding whether school buildings can reopen safely.
In parallel, schools should identify the capacity of the school to be able to deliver virtual instruction. If it becomes apparent that direct instruction will be hard to accomplish, investing time and resources in strengthening educators' skills to teach remotely will be essential. A potential opportunity may be to follow a rotating block schedule in which some students attend face-to-face instruction for part of the day and then switch off with their peers. This blended learning approach may allow for low numbers of students in enclosed spaces at a single time, but may require additional supports for home learning. 
How can I support teachers who are not providing accommodations and modifications to their English learners?
School leadership should facilitate collaborative learning opportunities (Professional Learning Communities and the like) where teachers can share resources with each other to best support students. Specific to supporting ELs, it's important that there be a school culture where the following are true: 
ELs are everyone's responsibility and all teachers should differentiate their instruction to meet the needs of ELs (differentiation should be done without watering down the curriculum).
Endorsed English as a Second Language (ESL) and bilingual teachers should be viewed as experts and be provided opportunities to lead trainings with fellow teachers in order to increase capacity. 
All teachers should feel comfortable requesting additional assistance to properly support ELs in virtual or home learning.
Due to remote learning, it may be hard for EL teachers to work individually with ELs as the teacher of record works with the rest of the students. Therefore, EL teachers should support the teacher of record with ideas for differentiation for everyone in the class. Keep in mind that differentiation practices for ELs (such as the use of visuals and descriptions) can benefit all students.
Explain the difference between Emergency Remote Teaching (ERT) and Online Teaching.  Our teachers and ourselves are being judged on our effectiveness in teaching online. However, there has to be recognition that the ERT mode is a temporary measure for survival.
ERT is certainly a temporary measure as the intention of returning to face-to-face instruction in a safe manner is a priority for most, if not all, schools. That doesn't take away from the tremendous effort that teachers have put into designing, developing, and executing remote learning. It is important to celebrate the accomplishments of teachers and communicate those to parents and others in the community. It's also important to remind folks that just as professionals in other fields, teachers have walked into the pandemic with little resources and training on remote teaching. Therefore, it is expected that it will take some time to adopt and develop tools and practices to deliver instruction to students at home.   
How can we help core subject teachers differentiate their lessons for our EL students?
Administration should ensure that the school culture is one in which ELs are everyone's responsibility. 
Core subject teachers should feel comfortable acknowledging their areas of opportunities and approaching their fellow ESL/bilingual teachers for support. 
Core subject teachers should work collaboratively with ESL/bilingual teachers to design lessons that integrate ESL/bilingual practices (which can benefit all students and properly support ELs). 
ESL/bilingual teachers should be confident to suggest strategies and language practices that can be modified depending on the content area
How are EL/multilingual advocacy organizations preparing to support educators and families for Back-to-School 2020?
As educators begin to plan lessons and unpack these last few months in preparation for the 2020-2021 school year, WIDA Español has an article, available in English and Spanish, that discusses how taking into account students' home and community experiences and linguistic diversity is key.
Additionally, WIDA has a list of resources that can support educators of multilingual learners. This list is updated as new resources become available.
If a school or district applies for a waiver, could an EL teacher's position be "eliminated" or decreased?
Case law and statutes require that proper supports be provided to make academic content accessible to ELs. Requirements for becoming an ESL/bilingual teacher vary from state to state. From a practice standpoint, there shouldn't be cutbacks on EL teachers because their services are key to the instruction of students and the pandemic makes them even more essential. From a legal standpoint, the waiver or elimination of an EL teacher's position will depend on state statutes and guidance. 
With so many families struggling to get personal survival needs met, how do we keep the value of education elevated? Also, how do we continue to support students and families who don't have internet and are not responding to phone calls either?
Reminders and communications to the home can provide opportunities for families to engage in learning. Providing opportunities for mini-lessons can also be beneficial with families who don't have enough time to spend on instruction. Providing resources with which older kids can engage on their own may also allow for self-paced learning. 
If students/families do not have access to reliable internet, providing opportunities for learning via paper packets may be the best approach. These packets shouldn't be printouts of worksheets, but rather opportunities for students/families to engage with learning by following directions (self-directed learning as if they were following a recipe) and opportunities for them to create their own learning in connection to what they have learned. Phone calls to support students can also make a difference.  
If students/families are not responding to phone calls, paying the family a visit (while maintaining social distancing) may be an approach to consider. 
What are some resources that are great for our EL students?
WIDA has compiled a list of resources on the Distance Teaching and Learning webpage.
How can districts identify English learners while schools are closed?
Contacting your state education agency is the best first step. SEAs across the WIDA Consortium have been sharing effective practices to properly identify ELs while schools remain closed.   
Want to learn more?
Focus Bulletin, Educación en el mundo actual: una visión para el futuro, coming soon!
WIDA Español's Focus Bulletin, Educación en el mundo actual: una visión para el futuro, to be released in August 2020, will expand on some of the concepts presented in this article. Additional topics to be discussed include educational equity and access to technology. Look for it on the WIDA Español webpage and the WIDA Twitter and Facebook pages.
Stay informed about WIDA Español
To receive occasional messages about WIDA Español resources, products, tools and services please use the form on the news signup page to receive an email that will allow you to manage your preferences, then select the WIDA Español interest area.