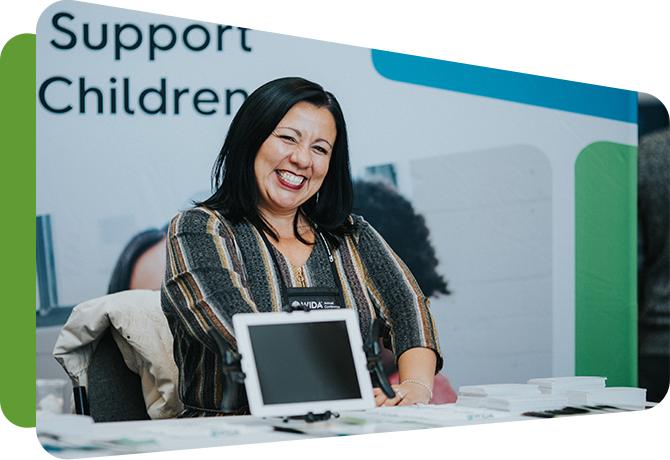 Find WIDA across the country and around the world
In addition to hosting the WIDA Annual Conference, WIDA staff participate in many other regional, national and international conferences throughout the year.
WIDA representation at in-person national conferences is currently on hold until further instructions on travel are announced by the University of Wisconsin - Madison. Updated in-person conference exhibit and participation information will be posted when available.
WIDA @ National Conferences
As keynote speakers, presenters, exhibit booth staff, or attendees, WIDA staff attend conferences to connect with educators. We do so to share research, best practices, and other insights, and especially to answer your questions and listen to feedback.
Look for us at these upcoming conferences:
VATESOL - Sep 2021

La Cosecha - Nov 2021

SFLIG - Nov 2021

LRA - Dec 2021
WIDA @ International Conferences
WIDA supports global and regional conferences with keynote speakers, workshop presentations and sponsorships. Join us at a future conference to connect with WIDA while expanding your network.
AILA World Congress - Aug 2021

AILA World Congress 2021
August 15-20, 2021
Virtual Conference / University of Groningen, Netherlands

Examining the Task Effect on the Complexity and Fluency of Young English Learners' Performance on an Academic Speaking Assessment 
Mark Chapman (WIDA), Meg Montee (Center for Applied Linguistic), Ahyoung Alicia Kim, Yangting (Tina) Wang (University of Texas – San Antonio), and Gordon West 

Learn more about AILA

AIELOC - November 2021

AIELOC and Women of Color in ELT 
November 12-13, 2021
Virtual Conference

Creating a Space of Our Own: Enraizando Social Justice as Resistencia in Neoliberal Contexts of Education 
Fernanda Marinho Kray (WIDA) and Christine Montecillo Leider (Applied Linguistics at the University of Massachusetts Boston)