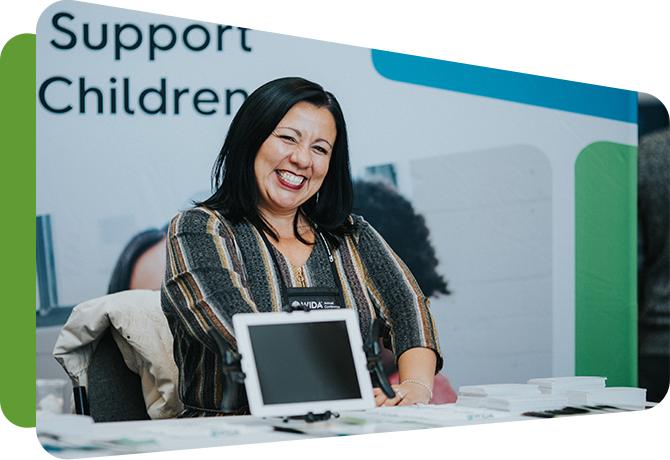 Find WIDA across the country and around the world
In addition to hosting the WIDA Annual Conference, WIDA staff participate in many other regional, national and international conferences throughout the year.
WIDA @ National Conferences
As keynote speakers, presenters, exhibit booth staff, or attendees, WIDA staff attend conferences to connect with educators. We do so to share research, best practices, and other insights, and especially to answer your questions and listen to feedback.
Look for us at these upcoming conferences:
WIDA representation at national conferences is currently on hold until further instructions on travel are announced by the University of Wisconsin - Madison. Updated conference exhibit and participation information will be posted when available.
TESOL International Conference - Mar/Apr 2020

National Conference on Science Education - Apr 2020

CABE - Apr 2020

National Migrant Education Conference - May 2020 

C-SAIL - May 2020

NAEYC PLI - Jun 2020 

National Conference on Student Assessment - Jun 2020 
WIDA @ International Conferences
WIDA supports global and regional conferences with keynote speakers, workshop presentations, and sponsorships. Join us at a future conference to learn more about WIDA and expand your personal learning network.
If you are hosting a conference or are planning to submit a presentation about WIDA, please let us know so we can add it to this page. Contact Jenny Hill-Wild at hillwild@wisc.edu.
ACAMIS English Language Learners Conference

September 19-20, 2020: Due to the current concerns with COVID-19, this event has been rescheduled.
Shanghia, China

Sessions by Christina Nelson

Getting Your Students Talking: Sustained and Purposeful Academic Conversations
The Collaboration Cycle: Beyond "Push-In" and "Pull-Out"

ELLSA Conference 20/20: EAL Success in Sight

September 19-20, 2020: Due to the current concerns with COVID-19, this event has been rescheduled.
Seoul, South Korea

Sessions by Mark Chapman

What's New from WIDA in 2020?
Scoring the WIDA MODEL Writing Test with Fidelity
Understanding What Your Learners Can Do: Interpreting WIDA Test Scores

Learn more about the ELLSA Conference