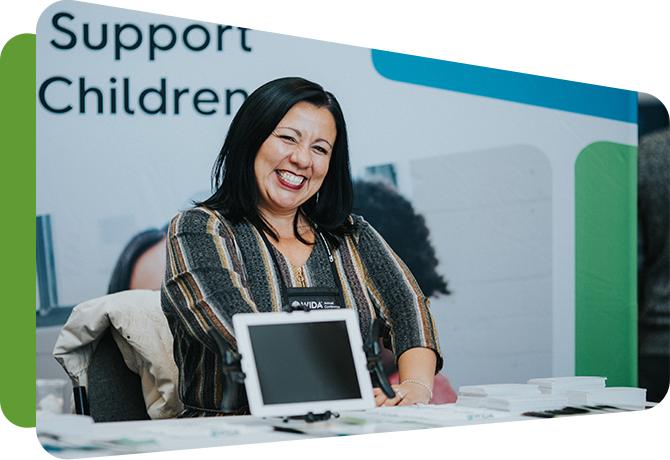 Find WIDA across the country and around the world
In addition to hosting the WIDA Annual Conference, WIDA staff participate in many other regional, national and international conferences throughout the year.
WIDA @ National Conferences
As keynote speakers, presenters, exhibit booth staff, or attendees, WIDA staff attend conferences to connect with educators. We do so to share research, best practices, and other insights, and especially to answer your questions and listen to feedback.
Look for us at these upcoming conferences:
Language Assessment Research Conference - Sept 2022

Illiniois Bilingual Director's Meeting - Sept 2022

La Cosecha - Nov 2022

WITESOL - Nov 2022

ELD Professional Learning Conference - Nov 2022

NABE - Sept 2023
WIDA @ International Conferences
WIDA supports global and regional conferences with keynote speakers, workshop presentations and sponsorships. Join us at a future conference to connect with WIDA while expanding your network.
WIDA - Sept 2022

WIDA Annual Conference
September 28, 2022
Louisville, Kentucky, USA

Becoming Language Detectives with the WIDA English Language Development Standards Framework
Christina Nelson and Melissa Paton

Beyond Student Portraits: The Can Do Philosophy in Action
Christina Nelson and Maya Martinez-Hart

Reimagining Professional Learning: A Global Community of Practice
Esther Bettney and Jon Nordmeyer

Building Capacity FOR Collaboration & Building Capacity THROUGH Collaboration
Andrea Honigsfeld and Jon Nordmeyer

Five Strategies to Support Multilingualism
Matthew Hajdun and Esther Bettney

Learn more about the WIDA Conference

SENIA - Feb 2023

SENIA Conference
February 16-18, 2023
Johannesburg, Africa

Presenter: Jon Nordmeyer

Learn more about SENIA