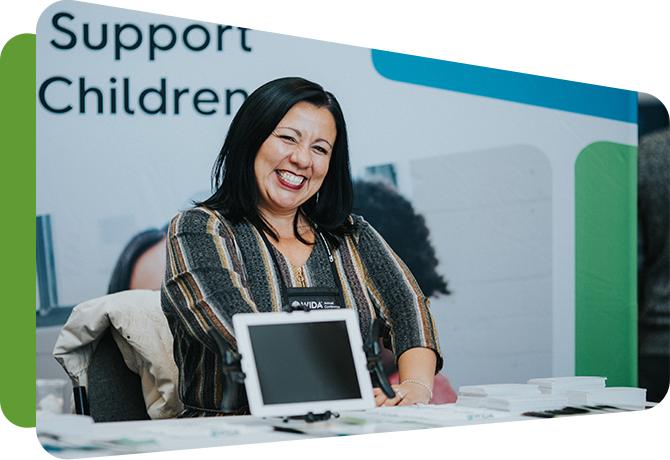 Find WIDA across the country and around the world
In addition to hosting the WIDA Annual Conference, WIDA staff participate in many other regional, national and international conferences throughout the year.
WIDA @ National Conferences
As keynote speakers, presenters, exhibit booth staff, or attendees, WIDA staff attend conferences to connect with educators. We do so to share research, best practices, and other insights, and especially to answer your questions and listen to feedback.
Look for us at these upcoming conferences:
AERA - Apr 2022

2022 AERA Annual Meeting
April 21-26, 2022
San Diego, California

Supporting the Equitable Writing Development of Spanish-English Dual Language Learners
Jason A. Kemp, Alicia Kim and Delis Cuélla

Learn more about AERA.

Minnesota Early Childhood Summit - May 2022

Minnesota Early Childhood Summit
May 3-5, 2022

Let's Plan! Exploring the WIDA Early Years Language-Focused Planning Tool
Tricia Blanco

MABE - May 2022

Michigan Association for Bilingual Education
May 5-6, 2022
Dearborn, Michigan

WIDA ELD Standards Framework, 2020 Edition: Unpacking Genre for Classroom Application
Fernanda Marinho Kray

Learn more about MABE.

NCSA - Jun 2022

National Conference on Student Assessment
June 27-29, 2022
Atlanta, Georgia

Identifying English Learners who are Eligible for an Alternate English Language Proficiency Assessment
James Mitchell (WIDA), Dawn Cameron (Minnesota Department of Education), Leslie Huff (Washington State Office of the Superintendent of Public Instruction), and Susan Weigert (Office of Special Education Programs, U.S. Department of Education)

Learn more about NCSA.
WIDA @ International Conferences
WIDA supports global and regional conferences with keynote speakers, workshop presentations and sponsorships. Join us at a future conference to connect with WIDA while expanding your network.
MAIS - May 2022

MAIS (Mediterranean Association of International Schools)
May 20-22, 2022
Milan, Italy

Keynote Session: Today's Schools, Tomorrow's Students: Responding to Change in a Multilingual and Multimodal World
Jon Nordmeyer

EAL for Classroom Teachers: Finding the Language in the Learning
Jon Nordmeyer

Beyond Co-teaching: Building a Culture of Collaboration to Support Diverse Learners
Jon Nordmeyer

Learn more about the MAIS Conference.