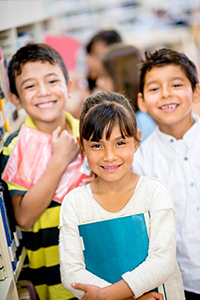 March 3, 2021
"I want to teach for equity and social justice. I want to adopt an assets-based mindset about my bi/multilingual students, and I don't know where to start."
Many teachers face this predicament as the drive for equity and social justice in education continues to build momentum. Teachers want to bring equity and social justice into their instruction. The WIDA Guiding Principles of Language Development can support educators in meeting that goal. In order to accomplish that, let's focus on Guiding Principle # 9: "Multilingual learners use their full linguistic repertoire, including translanguaging practices, to enrich their language development and learning." This principle will help us start applying ideas of equity, social justice and an asset-based mindset into our teaching practice.
Guiding Principle #9 invites us to recognize and "use our students' full linguistic repertoire." What does full linguistic repertoire mean? How can we recognize and use what bi/multilingual students can do with language if our experiences are so different from that of our students? Here is a way to look at it: a full linguistic repertoire covers all languages without the boundaries imposed by 'named languages.' Named languages are social and political constructs that often times support policies that marginalize minority languages. A full linguistic repertoire of bi/multilingual students expands beyond named languages and includes all other languages they know. For example, in the context of the U.S., English is a named language, as it is the dominant language and the one broadly recognized. Spanglish or other language practices that fuse aspects of named languages are often marginalized.
Language is learned through our interactions with others in sociocultural contexts — therefore, it shouldn't be restricted. Sociocultural contexts are part of systems in which our bi/multilingual students live, and they influence how they use their languages. For example, the home and community systems have unique established and accepted ways of using languages. The schooling system also has its own established and accepted way of using language. These systems can often be very different. In our classrooms, we need to support our bi/multilingual students' use of all languages and not limit them to the languages of a particular system. Students should be able to use their home or community languages in school.
Using the lens of equity to see our bi/multilingual students' full linguistic repertoire, as indicated by the WIDA Guiding Principle #9, we will be able to
View language development as a dynamic process that goes beyond a static set of rules and conventions.
Challenge the idea of language as a static destination (proficiency).
View language as a means for making sense of the world and interact with it.
Challenge the idea of 'named languages' by understanding the fluid characteristic of multilingualism.
Through the process of language socialization, young bi/multilinguals negotiate each of their contexts with all their nuances to decide which language to use, when to use it and with whom. Bi/multilingual students merge the lines of 'named languages' naturally. They soon learn, as they grow up, that the lines between languages become thicker and more rigid. However, those thick rigid lines do not hold when translanguaging is viewed as an internal cognitive process to make sense of ideas and concepts. Translanguaging is yet another aspect of the WIDA Guiding Principle #9.
You might be thinking, what does all this have to do with teaching for equity or social justice? One aspect of equity is the idea of inclusion. We want to include bi/multilingual students' lived experiences with language. Translanguaging is one of those lived experiences. Bi/multilingual students use language fluidly. Most of our children live in contexts where translingual practices are not only welcomed but also expected. If we fully want to adopt an asset-based lens grounded in equity, then we would have to take it a step further and consider the idea of belonging.
When educators strive for students' belonging in their classrooms, they co-construct spaces with bi/multilingual students where everyone not only translanguages to make meaning of concepts and ideas but make connections with their worlds, affirm their linguistic and cultural identities and teach others that a particular concept or idea has many ways of being interpreted.
These spaces should go beyond the practice of pairing up bi/multilingual students who speak the same language. We need to create spaces where bi/multilingual students can engage with others, regardless of language, in order to infuse their learning with lived experiences and cultural and linguistic points of view. These spaces should not only be provided but also welcomed and expected.
I sometimes ask myself, what do I, as a teacher, need to unlearn to create translanguaging spaces? Here are some ideas that come to mind
Embrace and implement the idea that the use of other languages (including experiences in the linguistic context) support the development of other languages by connecting firsthand experiences to new ones.
Give up the idea that teachers are in control of students' internal process of meaning-making regardless of the 'named language' of instruction.
Unlearn beliefs about bilingualism, to listen and learn from students' bi/multilingual experiences.
Remember that language is not just a series of structures and rules but practices that are dynamic and contextual.
Re-conceptualize the idea that 'home languages' and 'academic languages' are two different and discrete languages.
Rethink the idea that academic language proficiency is something tangible, linear and the goal.
The last part of Guiding Principle #9 is " ... to enrich their language development and learning." To explore this, we'll leave you with a few questions to ponder and ask yourself every day
What do I value as a teacher in regard to bilingualism?
Do my students' bi/multilingual practices take me out of my comfort zone?
How do I know what my bi/multilingual students need from me?
How can I make sure I am learning from my bi/multilingual students every day?
For all those teachers seeking ways to teach for equity and social justice, this article provides a strong starting point. Additionally, WIDA Español is actively involved in the development of a professional learning offering that highlights equity and social justice through the recognition of bi/multilingual students' full linguistic repertoire and tranlanguaging practices in the classroom. This offering will be launched in the fall of 2021 and will be accessible to educators in the WIDA Consortium, non-WIDA states as well as those in international schools.
About the series: Instruction in Spanish
This is the second in a series of articles by WIDA Español titled "Instruction in Spanish/Instrucción en español." Each of the articles in this series will focus on instructional practices for Spanish language arts and/or Spanish language development. The series presents ideas, practices and tools for educators of bi/multilingual students providing Spanish instruction.
About the author
Maya A. Martinez-Hart facilitates professional learning for WIDA Early Years and WIDA Español. Maya brings over 20 years of experience in education and family advocacy. Her teaching experience extends to two countries, her native Mexico and the United States, multiple ages and grade levels — as well as programs such as bilingual and Montessori education. Most recently, Maya has been involved in e-learning facilitation, design and professional learning.
To stay informed about WIDA Español resources, tools and services use the news sign up form to manage email preferences and select WIDA Español as an interest area.