What to know: WIDA assessments in 2023-24 school year
What to know: WIDA assessments in 2023-24 school year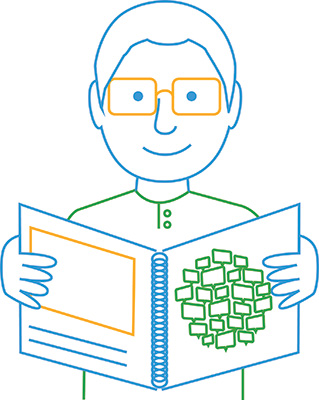 August 3, 2023
Welcome back, WIDA educators!
As you head back to school, keep in mind that our client services specialists are just a phone call or email away. We know that sometimes you don't have time to find where you put that test administrator manual, and you just need a simple question answered. Reach out to us. All of us at WIDA appreciate you and want to make sure you have what you need to best support your students and their families.
Here, we walk you through a list of what's new with WIDA Screener, ACCESS for ELLs and WIDA MODEL. We'll highlight a resource you may have missed in each section – look for ICYMI (In Case You Missed It). Plus, we tell you what you can do to make sure testing counts and how to stay in the know about all things WIDA.
What's new (topics are in alphabetical order)
To get the following updates in webinar form, attend the Welcome Back: What's New in 2023? webinar on September 12 at 1:00pm CT. Find more info on this webinar and all other assessment webinars on the Webinars page in the WIDA Secure Portal.
Accessibility and accommodations
The Accessibility and Accommodations Manual is newly updated and reflects changes to universal tools in DRC INSIGHT. Find the Accessibility and Accommodations Manual and other resources on the Accessibility and Accommodations page.
We made minor updates to the ACCESS Braille Accommodation section of our ACCESS Test Practice and Sample Items page. Braille sample items are consolidated into one downloadable file for each grade-level cluster (1-3, 4-5, 6-8 and 9-12). Refer to the new quick start guide to get familiar with using the sample items.
ICYMI: Read the interview between Anne Page, a speech and language professional, and Shea Head, a WIDA inclusion researcher, to get insights and tips for how to best support multilingual learners who use augmentative and alternative communication.
ACCESS tests in development
Revised ACCESS and Kindergarten ACCESS are coming
We're in the process of revising ACCESS to integrate the WIDA ELD Standards Framework, 2020 Edition, into ACCESS Online, Paper and Kindergarten ACCESS. Plus, we're taking this opportunity to fully redesign Kindergarten ACCESS for the first time in 10 years. These updated tests will be ready for the 2025-26 ACCESS testing year.
WIDA is improving the tests so that they better match the language instruction happening in your classroom every day. We will be inviting you to get involved in the process by participating in test development events and activities.
ICYMI: We have a webpage! Browse the Revised ACCESS for ELLs Is Coming in 2025-26 page to learn more about this work, including when things are happening and how to get involved.
Alternate ACCESS updates
After years of test development, the redesigned Alternate ACCESS for ELLs is launching for the 2023–24 WIDA testing year (with a new name to boot: WIDA Alternate ACCESS)! Explore the WIDA Alternate ACCESS Updates webpage to learn about what's new, when things are happening, how to get involved, what to know about standard setting – and more!
Keep in mind that when you test your English learners with the most significant cognitive disabilities during the 2023–24 school year, you'll use a test that
Incorporates the WIDA ELD Standards Framework, 2020 Edition
Covers kindergarten, which is part of the new K–2 grade-level cluster
Includes brand new test content and a new test item type
Contains an Individual Characteristics Questionnaire (ICQ), which prompts test administrators to answer questions about students. (ICQ information will be reported on the individual student score report to help educators make reclassification decisions about students taking Alternate ACCESS.)
Has a new look: Candoo, the Alternate ACCESS dog, adorns test materials and we carry over the field test color scheme
Has a redesigned training course, which has new content and a new look and feel (scroll down to learn more)
Stay tuned for Alternate ACCESS resources that will help you communicate and collaborate with students, families and your colleagues.
ICYMI: Conversations with Tim: How collaboration serves multilingual students living with significant cognitive disabilities. In this edition of Conversations with Tim, Tim talks to Madison Leech and Erika Hall, two educators. Together, they discuss working with and how to best serve multilingual learners living with significant cognitive disabilities.
Assessment training courses
WIDA assessment training courses change to the 2023-2024 administration year on September 1. As you enter a course in the WIDA Secure Portal, you'll be prompted to Enroll Now in the course for the new administration year.
On September 1, you'll see some big changes in three of our assessment training courses. The Online ACCESS for ELLs: Administration and Paper ACCESS for ELLs: Administration courses have undergone a complete redesign and will now be more user friendly and accessible.
We've aligned the courses with best practices for adult learners, so that you have more control over your learning:

Easily skip content that's not relevant to your role in testing, like detailed WIDA AMS information, which will be contained in standalone screencasts at the bottom of the page.
Make explicit connections to tasks that your state or district requires you to complete.
Spot the most critical content in our "Important Because" and "Best Practices" sections and take the next step with our "Do Now" prompt at the end of each page.

The refreshed design means a shorter time to completion, a greater variety of interactions, more engaging content and streamlined course navigation.

We've reorganized the content, reduced the total number of modules and grouped similar tasks together.
We've shortened the estimated time to complete one of these courses from over three hours to approximately 90 minutes (and many educators do not have to complete the entire course!)
To support the redesigned Alternate ACCESS, we've significantly revised the WIDA Alternate ACCESS: Administration and Scoring training course.
We made the content more engaging and accessible. New interactive animations help you identify eligible students, determine individual student needs and administer and score the assessment.
Our service dog, Candoo, guides you through the course and helps you take the next step with our "Do Now" prompt at the bottom of each course page.
Because this is a redesigned assessment, all Alternate ACCESS test administrators will need to certify after the course launches on September 1.
ICYMI: Your ACCESS for ELLs Checklist remains the source of truth on training and certification requirements in your state. Check your member/state page later in the fall for this year's updated checklist.
DRC Enhancements
DRC INSIGHT
DRC INSIGHT, the secure student browser students use to take ACCESS for ELLs Online and WIDA Screener Online, has been redesigned for a more accessible testing experience.
Buttons have been moved for faster keyboard and screen reader navigation.
There are more magnification options.
The Speaking test has a better microphone check experience.
Students no longer need to enter a username and password when viewing the test practice or online sample items.
We encourage anyone administering tests using DRC INSIGHT to check out these new features so you can better support your students during this testing year.
WIDA Assessment Management System (AMS)
Big changes came this summer for Student and Test Management in WIDA AMS! New applications have improved filter and sort options, and easy-to-locate buttons to help you quickly find information or complete tasks.
Looking to add multiple students at once? This feature has been moved into its own application, Import Management, where you'll be able to import a CSV file to add students to WIDA AMS and assign them to generic registrations for ACCESS Online or WIDA Screener Online. The application also provides a way to easily identify and correct errors in the file, even in files imported by someone else in your district.
When it's time to download score reports, you can take advantage of the new Reporting Services application, with a refreshed user interface, and easy-to-use filters and sort options.
ICYMI: Check out the Get ready for 2023-24 updates to WIDA AMS and DRC INSIGHT news article, or watch the DRC Enhancements for 2023-24 recorded webinar, located in the WIDA Secure Portal.
WIDA MODEL Online Test Administrator Interface updates
This spring and summer, we added new features to the WIDA MODEL Online Test Administrator Interface (TAI).
Copy test session: Use the new Copy Test Session feature on the Edit Test Session page to easily assign a group of students to a different domain.
Search for students: When adding a student to a test session, search by name or student ID to quickly locate them in your student list.
Auto-calculate results: The TAI will now calculate results automatically and allows users to move directly from entering final Writing scores to downloading score reports.
Add final Writing scores from completed forms: Efficiently add final Writing scores to groups of students from the same screen.
Key documents have been revised based on educator feedback. We've clarified how and why you might assign a particular Writing task for WIDA MODEL Online, and we've reorganized some of the content so you can find information on similar topics in the same section.
ICYMI: The U.S. Department of Education released updated guidance in 2022 on using ESSER funds. Read our article to learn how you can use ESSER funds to support multilingual learners with WIDA MODEL.
Make sure testing counts
As you gear up for testing, keep in mind…
When capturing student Speaking responses, it is important for the test administrator to confirm that the audio is being recorded by the device and that the student is speaking clearly into the microphone.
Allowing students to take any internet-connected devices, such as cell phones, smartwatches or Bluetooth headsets into an ACCESS test session is a violation of test security. Copied or plagiarized responses can result in a student's score being invalidated.
ACCESS test administrator scripts and training materials have been updated to include specific devices that students shouldn't have in the testing environment.
Stay in the know
Participate in an ACCESS event! Every year, we ask the WIDA community to participate in events and activities that help us review and refresh our assessment tools. If you would like to contribute to WIDA test development work, peruse our Building a WIDA Assessment webpage to learn more and apply.
Use the WIDA Educator Exchange, a Facebook group, as a space to exchange ideas, share resources and engage in discussion to help multilingual learners succeed. Join today and add your perspective to this group of nearly 10,000 colleagues from around the world!