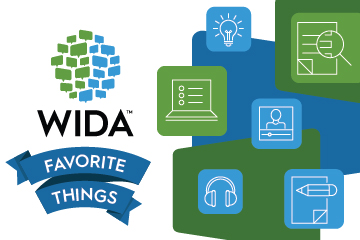 December 9, 2021
We did it! We made it through another calendar year. Let's have some fun and do a little reminiscing – to the tune of "these are a few of my favorite things." Except, we're singing to the tune of your favorite things. And by things, we mean all the WIDA topics, resources or research that you clicked on most each month in 2021.
January
In January, your favorite WIDA thing was… the WIDA English Language Development Standards Framework, 2020 Edition! Released throughout the year were supporting resources like the FAQ flyer series, What Can Collaboration Look Like? comic strip and revamped webpages dedicated to the ELD Standards Framework and the 2020 Edition.
February
In February, your favorite WIDA thing (okay, really this month what we mean is "things" 😉) was… WIDA Español resources! WIDA Español launched a series of articles focused on instructional practices for Spanish language arts and/or Spanish language development. They are all written bilingually in English y en español. Instruction in Spanish: El transculturalismo, the first article in the series, explores the ideology and offers strategies for incorporating it into Spanish language arts instruction.
March
In March, your favorite WIDA thing was... WIDA Screener for Kindergarten! In March, and since then, we've put out all sorts of things on WIDA Screener for Kindergarten. Your favorites were three news articles: WIDA Screener for Kindergarten: Get ready to use it, find out what's available this spring, Conversations with Tim: Get to know WIDA Screener for Kindergarten and WIDA Screener for Kindergarten: Answers to frequently asked questions.
April
In April, your favorite WIDA thing was… reading excerpts from the ASCD Educational Leadership article, "What does equity really mean for multilingual learners?" by WIDA International Program Director Jon Nordmeyer, WIDA Founder and Director Tim Boals and WIDA researchers Rita MacDonald and Ruslana Westerlund. This article was featured in the April edition of the WIDA International Newsletter and was one of WIDA's top Facebook clicks this year.
May
In May, your favorite WIDA thing was... teacher appreciation! From our vantage point, #TeacherAppreciation was definitely trending on social media throughout the month of May. If you're looking for some teachers to appreciate, revisit some of our top 2021 Featured Educator articles: January 2021 Featured Educator: HeeGyoung Song, June 2021 Featured Educator: Laura Barry, August 2021 Featured Educator: Kifah Soheil and October 2021 Featured Educator: Jovita Gandolfo.
June
In June, your favorite WIDA thing was… getting familiar with the Early Language Development webpage, a new WIDA webpage by the WIDA Early Years team. The webpage features tools and resources to help early care and education (ECE) professionals plan equitable and engaging learning opportunities for young multilingual children.
July
In July, your favorite WIDA thing was... an article about how to use interim assessment data to measure and address the pandemic's impact on multilingual learners. The article outlined three important ways our on-demand interim assessment, WIDA MODEL, can support you as you work to gain an understanding of students' immediate learning needs:
Identify the immediate learning needs of multilingual learners
Inform targeted instructional planning in real time, then measure progress
Engage parents and families of multilingual learners.
August
In August, your favorite WIDA thing was... getting excited about the release of the redesigned WIDA Secure Portal! As we got ready to launch (and then did launch) the redesigned WIDA Secure Portal, two news articles were your favorite sources of information: Redesigned WIDA Secure Portal: Coming September 2021 and Redesigned WIDA Secure Portal is live!.
September
In September, your favorite WIDA thing was… Marco ALE! WIDA Español made a significant splash en septiembre with advancing linguistic equity in language arts with its brand-new Spanish language arts framework, Marco de referencia de las artes del lenguaje del español (Marco ALE). Marco ALE, presented in two documents, is available on the Marco ALE webpage and for purchase in the WIDA Store. ¡Echale un vistazo!
October
In October, your favorite WIDA thing was… the 2021 WIDA eConference, WIDA's first virtual conference! In case you missed it (ICYMI) live, we highlight some of the 2021 WIDA eConference themes, chat box happenings and TIL (today I learned) takeaways from a selection of 2021 WIDA eConference sessions. Reminder, if you were a registered attendee and would like to rewatch a session or view one you missed, you have access to all recordings until December 31, 2021.
November
In November, your favorite WIDA thing was... the new research report Examining English Learner Testing, Proficiency and Growth: Before and Throughout the COVID-19 Pandemic. And the accompanying Facebook Live event featuring report authors Dr. H. Gary Cook and Narek Sahakyan. During the event, Gary and Narek answered questions about the report. View the event recording on Facebook.
December
In December (so far 😉), your favorite WIDA thing is... the latest edition of Conversations with Tim! In Conversations with Tim: Preserving indigenous languages and cultures, Tim talks to Anton Treuer, an author and professor of Ojibwe at Bemidji State University. Together, Tim and Anton discuss the importance of preserving indigenous languages and cultures.